5 Reasons Why You Should Consider Indian Sandstones For Your Home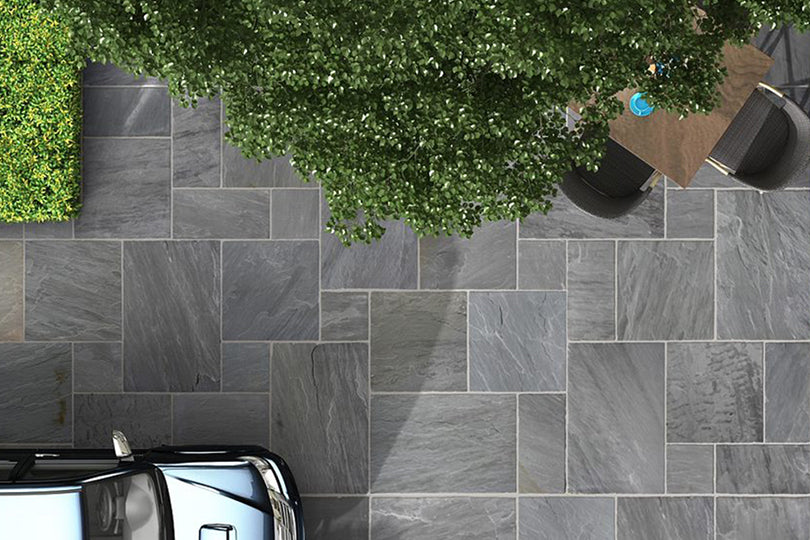 5 reasons why you should consider Indian sandstones for your home
Choosing the right natural stones for your home can be a difficult decision. With so many options in the market, it's hard to know which one is best for your needs. If you're looking for a durable, stylish, and easy-to-maintain option, Indian sandstone flooring and paving might be the right choice for you!
Indian natural stone is the ultimate pick for patios and pathways due to its high level of durability, adaptability, and attractiveness. There are so many new styles and colors for sandstone paving slabs that you'll never run out of options.
At The Stone Flooring, we're offering Indian sandstones that create an eclectic look for your interiors and exteriors. Our range of stones is modern and contemporary in design, with a humongous variety of colors to choose from. The natural beauty of these materials makes them ideal for any interior design project.
 The stones are available in different sizes, shapes and grains to suit your needs. They come with a variety of finishes as well such as polished, honed or brushed.
 Our Indian sandstone is a natural stone with a smooth surface, which makes it perfect for making tiles, walkways, floors, and more. The fine grains give it an attractive look and feel to it. It's also easy to clean and maintain because it doesn't need any complex process of maintenance or sealing after installation.
In this blog post, we'll explore the benefits of sandstone slabs so you can decide if it's the right choice for your home. These are some of the best sandstone materials available in the market today.
Also read: How to clean and maintain your limestone paving?
1. Mint Sandstone Honed Beige Patio Slabs.
 The Mint Sandstone Honed Beige Patio Slab is designed to be durable and long lasting, making it one of our most popular paving options for patios, driveways or any other outdoor application. Its natural color palette has been proven to blend well in all types of residential areas and commercial buildings.
 The Mint Sandstone Honed Beige Patio Slabs is perfect for your outdoor space. It is an outstanding choice for patios and walkways. The high-quality design of this project makes it completely resistant to weathering and harsh elements.
Mint Sandstone Honed Beige Patio Slabs are ideal for leisure areas, swimming pools and playgrounds. The classy look of the product will give you an elegant and sophisticated atmosphere that you can enjoy with your family members.
2. Mint Sandstone Hammered Beige Wall Cladding
 The sandstone is an ideal option for those who want to create a modern look with their home décor. It features an elegant finish that will suit any room style, as well as decorative elements that can be used as focal points in your interior design.
The hammered texture is another great feature of this natural stone, which gives it an aged feeling and warmth. It also provides an elegant touch that makes this wall cladding ideal for both interior and exterior use.
Mint Sandstone Hammered Beige Wall Cladding
3. Kandla Grey Sawn Sandstone Paving
 If you are looking for a timeless look, the Kandla Grey Sawn Sandstone Paving is ideal. This elegant paving comes in subtle grey hues giving the space a timeless appeal.
 The Kandla Grey Sawn Sandstone Paving has been developed using natural stone and is available in various sizes and shapes. It is also available in different colours including white, grey, black and red.
4. Fossil Mint Sandstone Tumbled Paving Slabs
 Mint sandstone is a popular choice for patios, walkways, driveways and more. It is an excellent choice for a low maintenance surface that will require little maintenance over time.
 Mint sandstone is a natural stone, so each slab is unique in its own way. The texture and patterning varies from slab to slab, making each one a work of art in its own way.
 The colouration and texture of fossil sandstone makes it an ideal stone for exterior walls or other areas where a natural look is desired. Fossil sandstone can be used in conjunction with other architectural elements such as wood, stone or even tile to add dimension and interest to your home's exterior design.

Fossil Mint Sandstone Tumbled Paving Slab
5. Cashmere Grey & Brown Antique Sandstone Floor Tiles
 The Antique Tumbled Sandstone floor tiles are an excellent choice for any home, commercial space or business.
 The tiles have been hand-picked from a variety of different sources including antique flagstones and antique stone walls, with all imperfections and natural variations in the stone carefully retained.
 The result is a unique collection of unique tile designs that will add a touch of character to your space while still maintaining a traditional look.

Cashmere Grey & Brown Antique Sandstone Floor Tiles
6. Charcoal Sandstone Natural Cleft Garden Slabs & Exterior Paving
 Our beautiful charcoal sandstone slabs are sourced from beautiful hand-picked stones from our network of quarries. They give you a timeless solution for your patio and come in grey hues with specks of yellow & browns here and there.
 Natural stone is a dream to work with, as it is naturally fire resistant, which means you can use them year after year without having to worry about sealing them or worrying about the weather conditions.
These natural stone slabs are perfect for both indoor and outdoor application including patios, balconies, walkways, pool decks, backyards and more.
 They are also an excellent choice for natural landscaping projects as they blend in well with the environment.
 The natural clefts in these slabs add character to the stones without compromising on durability or strength.
 Charcoal Sandstone Natural Cleft Garden Slabs & Exterior Paving
7. Rainbow Sandstone Honed Paving Slabs
 The Rainbow Sandstone Honed Slabs are one of the most eye-catching stones, with intense swirls, patterns and colors, creating a beautiful rainbow effect. The stone has shades of oranges and purples, making it perfect for brightening up any outdoor or patio area.
 Rainbow Sandstone Honed Paving Slabs are ideal for any outdoor space where you want to add some color and style to your landscaping. These stones are also very durable and will last for years to come.
Benefits Of Indian Sandstone Paving:
Affordable
The cost of paving slabs is a significant factor that makes the selection process easier, especially if you are looking for the best option for your outdoor space. Indian sandstone paving slabs are very affordable and durable as well. This makes it one of the most cost-effective options out there. You can always find a way to fit this type of slab option into your budget without thinking twice about it.
Superior Quality
 Another benefit that you get with sandstone paving slabs is their superior quality, which is why they have become so popular all over the world. With this kind of laying Indian sandstone paving, you can expect some really high-end features like slabs that are extremely thick and durable, as well as beautiful patterns that will give your place an elegant look that could never be matched by any other kind of choice out there today!
Durable Surface
 The durability of sandstone paving slabs makes them an ideal choice for those who are looking for a long-lasting solution for their home. Limestone flooring will not fade or wear out easily because its color does not fade away over time. If you have pets, then you can be assured that your pet will not scratch it off either since limestone is pet-friendly.
Gives A Luxurious Look
Indian sandstones are not just a slab solution but also gives a luxurious touch to your space. The unique nature of this material is what makes it stand out from the rest. In addition, it gives an opulent touch to any room as it brings out the beauty of natural stone and enhances the elegance of décor by adding character and personality to each space. For example, Raj sandstone paving slab can automatically enhance any space and add that extra touch of glamor to it.
Versatility
The possibilities are endless when it comes to Indian sandstone paving slabs. The natural beauty of this stone makes it the perfect choice for any home decorating project!
You can use it for any style project, from a contemporary bedroom to a rustic dining room or kitchen. Choose from natural stone that has been buffed and polished to create a sleek look, or select an aged look that has been weathered and aged with time, just like gray sandstone paving slabs!
Indian sandstone paving slabs are an ideal choice for projects where durability and beauty are important factors. It is composed of many different types of stone that are fused together to create unique patterns and designs. They are often used on patios, sidewalks, or driveways as they can withstand harsh conditions such as rain or snowfall without breaking down.
Indian sandstone slabs are available in various shades and textures, making them perfect for almost any décor scheme. The natural look of stones makes them ideal for creating a minimalist or modern look in your home. Combine it with other stone types present with The Stone Flooring for an eclectic look that will fit in well with your existing interior design scheme.
Also read: Tips to use natural stone slabs for smaller gardens