What Makes Stone An All Weather Choice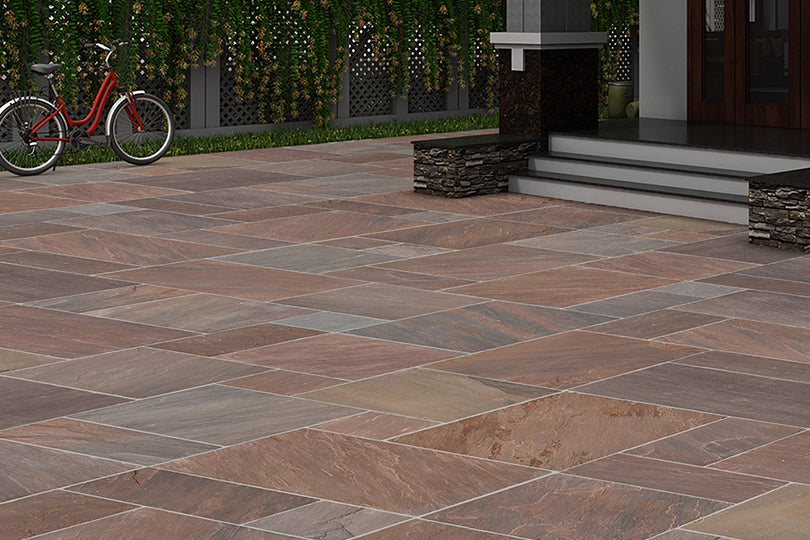 Stone being one of the most common and loved flooring option posses certain properties that makes it a no brainer for the consumers. These properties give stone a distinct advantage from the rest and makes it a fan favourite. 
It's not only the good looks but it's ability to deal with any weather condition that gives it the position of the leader in the flooring industry. There are three reasons why stone stands as an all weather choice:
Heat Retention and Cooling Properties: 
Stone absorbs the heat and aids in protecting from the harsh heat in the summers. It's perfect for outdoors as well as indoors during a hot summer day. The places which have extreme summers are not easy to live in but with stone it becomes a little easier to face the harsh weather.
Also read, 5 popular paving stone options
Durability:
Stone is not affected by the external environment and hence is one of the most durable material on the planet. Be it extra hot summer or chilly winters, stone deals with them easily and they aren't able to cause a significant damage to it. Even during the peak of summers 
natural stone flooring
 don't crack because of the heat and the extreme winter snow doesn't match the strength of the stone.
Scratch Resistant and anti-slippery surface:
During summers and winter hosting gathering outside or insider will never be a problem as stone is designed to be a surface that caters to the everyday activities of humans. Stone posses the qualities to enhance the quality of living for the humans.
Stone is a versatile and durable material that can be used for a variety of applications, both indoor and outdoor. It is an all-weather material resistant to heat, cold, and moisture, making it an ideal choice for flooring in many settings.
There are a number of different stone flooring options to choose from, each with its own unique benefits. For example, limestone is a popular choice for indoor flooring because it is visually appealing and easy to maintain. Granite and slate are two other popular indoor and outdoor flooring choices, respectively, because of their durability and slip resistance.
No matter what your needs are, there is a stone flooring option that will suit them. If you are looking for a durable, all-weather material for your flooring, the stone is an excellent choice.
The best choices for stone flooring, however, are those we've listed below. To build the house of your dreams, choose the one that best suits your needs! 
Also read, Using Natural Stones on Kitchen Floors
Best stone flooring for kitchen
If you're looking to install new flooring in your kitchen, you may be wondering what material is best suited for the space. There are a number of different stone flooring options available on the market, each with its own unique benefits.
Typically, the most durable materials are granite stone flooring and quartz stone flooring. These materials are also among the most expensive, however. If cost is a major concern, then other options such as marble and natural limestone paving may be more suitable.
As for aesthetics, it really depends on personal taste. Some people prefer the classic look of marble, while others prefer the more modern look of granite. Ultimately, it is up to the homeowner to decide what look they prefer.
Best Stone Flooring For Living Room
Living rooms are where you can really make your space your own, and you have a lot of options when it comes to flooring. 
There are many different types of stone flooring options available in the market today, but some of them are better than others when it comes to creating an elegant look for your living room. 
Here we have listed some of the best stone flooring options for your living room that you should consider when choosing the right flooring material for your home: 
Marble
Granite
Slate
Sandstone
Limestone
Best Stone Flooring Option for Garden & Outdoor
Your garden can have the same look as your home or apartment, but it will cost you a little more to do it. It's not hard to make a simple change in your garden that's easy on the eyes and won't break the bank. 
There are many types of stone that you can use for your garden flooring, including:
Marble

Limestone

Sandstone

Granite
Best Stone Flooring Option for Bathroom
Stone flooring is a great option for any bathroom and can be used in both traditional and modern style designs. It is ideal as it will not only look good but also last for many years. This makes stone flooring an excellent choice for bathroom floors.
Stone flooring can be used as a stand-alone feature in the bathroom or it can be used in conjunction with other features such as tiles, rugs and wall decorations.
There are many different types of stone flooring available for your bathroom, each with its own unique look, texture and colour. Here are some of our favorite options for bathroom floors:
Best Stone Flooring for Driveways
Stone is a natural material and it is a favorite option for many homeowners. Stone can be used in driveways and walkways to create a beautiful look that will last for many years to come. However, not all stone options are created equal. It's important to choose a  best stone flooring for driveways that will last and look great years down the lane.
Here are some best stone options for driveways: