5 Popular Paving Stone Options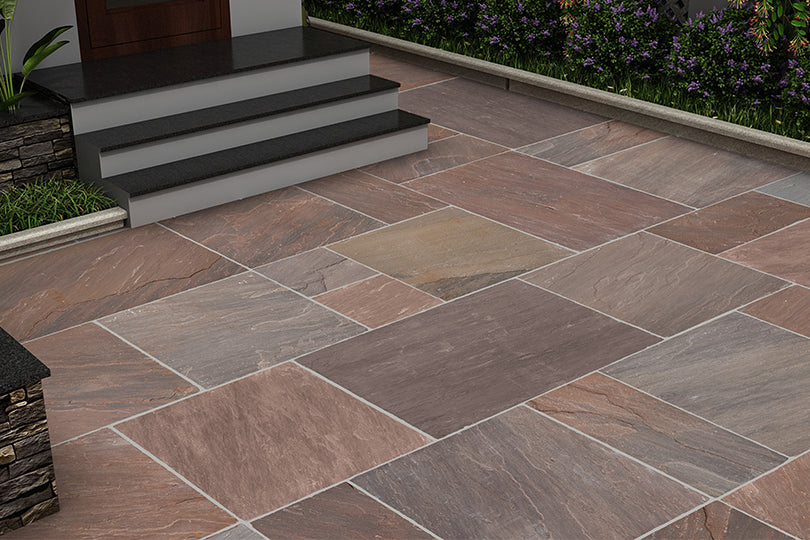 Paving stones have become a popular addition to front yard landscaping, driveway lining, and garden use. Paving stones can be used to enhance the aesthetic and architectural style of your property and will keep your outdoors timless for a long time if you choose the right material.
If you want to brighten up your pathway or lawn, here's a rundown of the various varieties of paving stones
Slate Paving Slabs

Slate paving slabs are beautiful and come in a variety of colours. Because of its natural beauty and slip-resistant characteristics, slate is one of the most prominent paving stone selections. Slate breaks when cut and peeled from natural rock beds, resulting in a naturally variable texture. The textural variety of slate is what makes it slip-resistant. Other advantages of putting slate pavers into your landscape or driveway include their tough yet decorative appearance, durability, and variety of sizing options.
Granite Paving Slabs
It's no surprise that granite stone has long been employed in restoration projects. Granite is particularly intriguing since it is formed from volcanic rock. Granite is formed when magma cools and gathers up random minerals. Granite paving slabs are extremely resistant due to the numerous minerals trapped on the surface. Granite is one of the hardest stones on the land and is the best candidate for the roughest of conditions due to its natural resilience to all forms of weather and permanency.
Sandstone Paving Slabs
Sandstone paving slabs typically gives more design alternatives in terms of colour and texture than Limestone paving, giving it a more flexible option for outdoor paving and opening up your different options from subtle greys and creams to bright multi-coloured stone!
Limestone Paving Slabs
The dark tones in the natural stone paving provide a dramatic finish for an eye-catching design, and when used indoors, Limestone is less vulnerable to fading and requires less maintenance than when used outside. The rich stone is also excellent at concealing any spillage!
Limestone paving is popular for interiors and is an excellent choice for kitchens, as well as for regular use in patios and paths.
Porcelain Paving Slabs
Porcelain paving has a uniform, patterned surface that mimics the appearance of natural stone flawlessly. Porcelain paving slab is constructed from a high-temperature-baked mixture of clay, sand, and minerals. The resulting pavement slabs are non-porous, long-lasting, and exceptionally thick. Porcelain paving tiles are also ideal for every climate, as they can survive harsh temperatures and weather conditions without being damaged or being too hot underfoot in the sun!
Conclusion
The environmentally sustainable design trend is not going away. The decision to lay a natural stone in an arrangement is a personal one, but sustainability should be considered. The natural stone pavers will make a spectacular feature in your space that is not only beautiful but also extremely practical, inexpensive, and long-lasting!
Talk to us about the vision and special requirements of your project. At Stone Flooring we leave no stone unturned in our pursuit of the best for our consumers!
Shop now: Paving Slabs Collection