Using Natural Stones on Kitchen Floors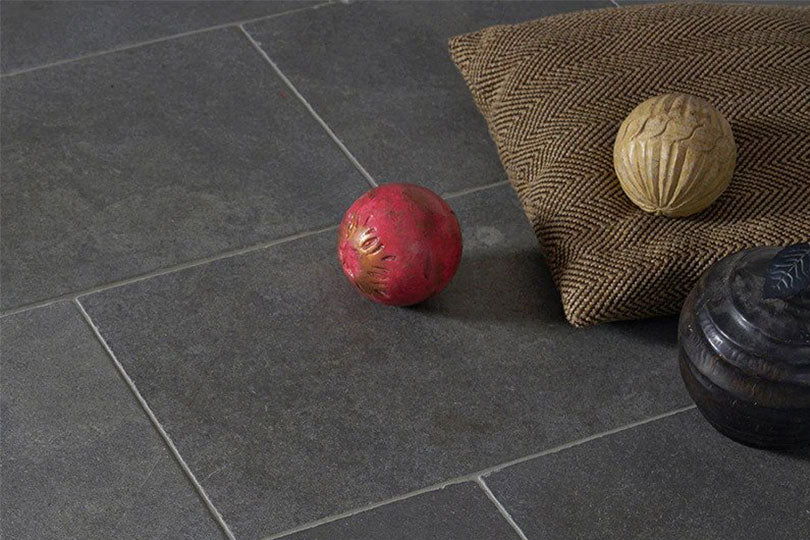 There are so many decisions to make and things to consider when it comes to upgrading, extending, or even installing an altogether new kitchen! With so many alternatives and choices, it's easy to feel overwhelmed, but as stone experts with decades of experience, we thought we'd throw some light on the subject of natural stone kitchen floor tiles and get you some of our customer's choices.
Long-lasting Limestone Tiles 
For generations, this classic stone has been used as kitchen flooring. Its capacity to withstand the test of time demonstrates how tough and long-lasting a stone floor can be. Some limestones are naturally denser than others, and our range was picked with this in mind, resulting in a functional yet distinctive kitchen floor. Our limestone, which we have specialised in for years, is a solid favourite among clients. The beauty of limestone kitchen tiles changes over time as it is used, and there is something quite special about having a historic piece of stone installed in your home.
Cashmere Tumbled Sandstone
Cashmere sandstone kitchen tiles are setting an example of prominent kitchen flooring, delivering the ultimate neutral with soft pastel wash tones and unusual texture. Sandstone, like Cashmere, is a hardy and practical option for kitchen tiles, with a textured surface that adds grip. Dark-brown tiles with a rustic finish go well with the popular modern look and can be complemented in a variety of colours. The sandstones are appropriate for both indoor and outdoor use and precisely represent this on-trend colour range.
Grey Stone is Timeless
Grey is a colour that has come and gone over the years, and while warmer tones are equally popular, there is something timeless about a grey kitchen tiles, which is why it is one of the most popular kitchen flooring choices! The beauty of the genuine stone is that no two tiles are ever the same, whether it's a gentle pale grey or a deep grey with variety from tile to tile – we think grey flooring adds depth and detail to any kitchen space.
Beige is Back in Style!
While grey seemed to be the only kitchen flooring tile that everyone desired for a long time, we've noticed a change towards warmer tones, with the beige trend guaranteed to last! The beauty of a beige natural stone is the wide range of colour combinations and shades available – from industrial-rustic beige limestone tiles to a creamy beige marble floor tiles kitchen, our special cream-beige selection has something for everyone. 'Tuscany Beige Marble' is a lovely, lighter stone with gentle honey-beige flecking for those looking to create the perfect country kitchen. And, for achieving high-end luxurious effects our Primrose limestone is a gorgeous choice.
Bold Kitchen is Tasteful
The colour black is associated with mystery and sophistication. Unlike any other colour, this one has a wide range of hues and depth. Black kitchen tiles are a great way to bring style and refinement to any room. A kitchen with Carbon Black Natural colours is striking on its own, and nothing is more stunning than the balance between black and its subtle colour combinations. If you're worried about the contrast being too glaring for your area, balance it out with black and white pieces, as well as wood tones to give it a natural feel.
Also read, Tips to use natural stone slabs for smaller gardens
How Can I Maintain the Cleanliness of My Kitchen Floor?
Kitchen floors see the highest activity and use as compared to the other parts of any home! With this in mind, porcelain and natural stone are incredibly practical solutions, requiring only a few simple measures to maintain and keep your stone floor looking its best for years to come.
Bottom Line
When installing natural stone, seal it to act as a stain barrier. Vacuuming with brush equipment is suggested, as is spot cleaning any spills as soon as possible. Natural stone should not be cleaned with harsh, acidic cleansers; instead, look for pH-neutral cleaners and cleaners labelled "appropriate for natural stone."