How Do Porcelain Patio Tiles Look New for Years?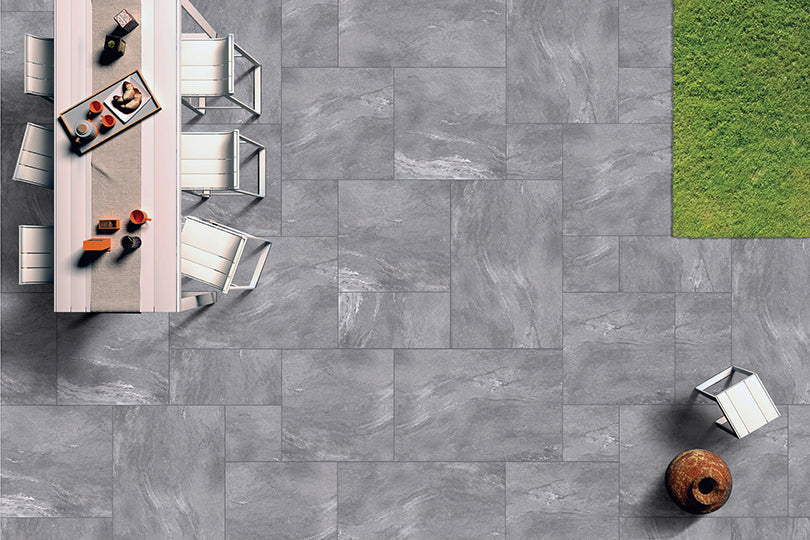 With no denial, porcelain patio slabs are the best option for providing a stylish look to a modern property. They have exceptional resistance. They are more durable than their competitors while also providing a gorgeous appearance to the property.
Let's see why you should choose porcelain slabs in the first place.
Why Choose Porcelain Tiles?
When deciding, it is fairly common for people to ask this question. Porcelain tiles have become the latest craze. They give consumers a reason to stop and stare, and they provide the surfaces with a longer shelf life than competitors.
Porcelain paving slabs UK are available in a range of shapes and sizes, which can help you accomplish the exact vision you have for your home. They can resemble granite, marble, or any other material, making them multipurpose and diversified even for people who are picky about their choices. A beautiful porcelain tile is created by using highly refined clay that is burnt at higher temperatures. As a result, porcelain tiles tend to hold up better and endure longer.
The best aspect is that you don't have to worry about them if you have a busy business atmosphere, pets, or small children nearby. Porcelain slabs in the UK are extremely resistant to wear and breaking, as well as the abuse of daily living.
Is Cleaning Porcelain Patio Slabs Effortful?
Business owners who do not want to burn a hole in their budgets to keep their workplace floors in good condition might consider porcelain flooring. If you prefer to live in a tidy environment, porcelain paving slabs and tiles are ideal.
Because they are not porous and do not harbour bacteria, these tiles do not require as much care as other outdoor flooring solutions. Anyone who wishes to avoid the time and effort required to maintain traditional tiles can consider porcelain paving.
Quick And Easy Maintenance
One of the most common concerns that individuals have is the longevity and upkeep of materials. Even though porcelain is a highly durable material that requires less maintenance in comparison to other options, we still need to do a few things to keep its beauty. This blog will detail a few techniques to keep ceramic tiles appealing even after decades of use.
How To Clean Porcelain Paving Slabs?
Porcelain tiles are made in a way that they are impermeable to stains, water damage, and scratching. Nonetheless, there are various non-time- and money-consuming ways to provide extra care for them.
Cleaning Of Outdoor Porcelain Paving
Outdoor spaces are nothing more than an extension of our living area. We frequently spend our time making crucial decisions or relaxing. But have you ever battled to keep that location clean and maintained? Have you ever pondered how to make everything new and fresh again? While maintaining indoor porcelain is much easier than cleaning outdoor porcelain, outdoor porcelain slabs tend to collect more dirt. The good news is that they are moisture-resistant and rarely discolour. As a result, it is not a difficult process, and once completed, one may restore the appealing finish of the tiles.
It is important to remember that acidic materials should not be used on porcelain paving tiles since they can harm their texture. Sweep away all the dirt from the paving with a brush, then add some washing liquid or tile cleanser to a pail of water to make an ideal cleaning solution.
Also read, Expert Paving And Patio Tips To Transform Small Garden Spaces
Later, use a jet spray to rinse the cleaning solution from the surface.
When you're finished, let them dry and you'll have the perfect-looking porcelain tiles once more. As a result, all you need is some cleaning product, water, and a few minutes to keep the shine on your porcelain pavement and porcelain slabs for decades.
Cleaning Porcelain Floors In The Home
For indoor cleaning, the ideal method is to use a soft brush to remove all dust from the floor, or you can use a vacuum. After that, mop the tiles with a PH-balanced, mild cleanser. Finally, before drying, simply wipe the solution with hot water. Don't forget to clean up the floor with a soft towel. This will not cause the floor to lose its texture.
How Often To Clean Porcelain Slabs And Paving?
Depending on how the tiles are used, they can be cleaned. You can clean them with a mop or a vacuum; the choice is totally yours. As previously stated, we do not need to spend hours cleaning. Porcelain tiles do not require a deep cleaning every few days and can be cleaned at your leisure.
Easiest Way To Get Rid Of Dirt
You can begin cleaning the surface right away by mopping away the dust particles since you do not want dirt to accumulate over time. It has the potential to dull the gloss of your porcelain.
DOs And DON'Ts
The next best thing is to use a commercially available porcelain surface cleaning. It will aid in giving your porcelain paving slabs a new look and feel. Assume you want to avoid paying for a cleaner. You may get a variety of them at low prices. In that situation, you can also deep clean your porcelain paving using the appropriate amount of vinegar mixed with water. However, avoid using coloured materials on unglazed tiles since they may discolour them. Also, avoid using coarse things on the porcelain because they can damage the texture and cause marks.
Shop And Choose With The Stone Flooring Stones Today!
It takes less effort to develop a space for either an office or a home, but it certainly takes more to sustain one. The Stone Flooring ensures that our clients do not settle for anything less than what they have envisioned. We are the top producer and exporter of natural stones and porcelain slabs in the UK, with a wide range of items to suit your preferences.
Browse our broad product line to assist your establishment in achieving the desired look. There's a sense of accomplishment that comes with seeing your home all neat and clean. We hope that this blog will help you find what you're looking for. Please contact us if you have any further questions.
At the Stone Flooring, we provide premium quality porcelain slabs for indoor and outdoor use.