5 reasons why grey stone should be your next flooring choice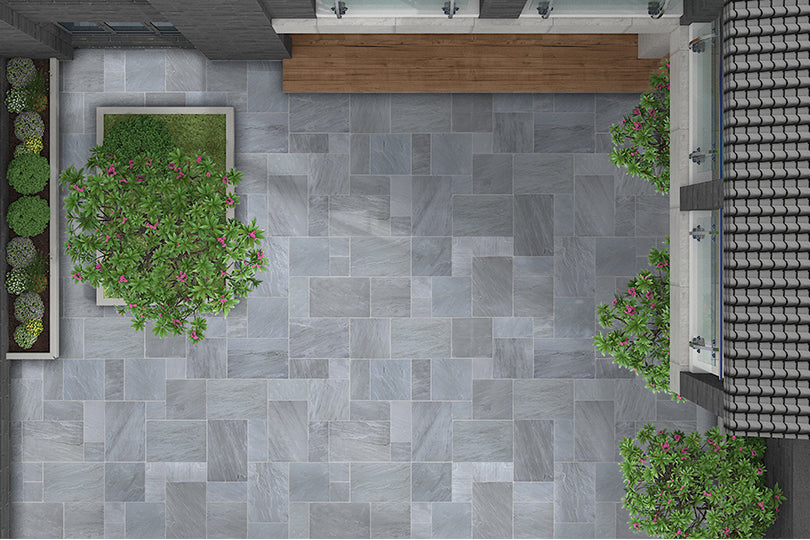 When it comes to interior design, sophistication is just as vital as functionality. Colours are extremely significant in a room's overall appearance and appeal. While some colour choices are impermanent, others are timeless. Grey is a classic colour that has become a popular flooring choice recently.
The colour is simple and elegant and one of the most common and widely loved choices amongst people looking for a new flooring option. Grey goes well in any surrounding be it indoors or outdoors because of its peaceful and soothing look. Speaking luxury and finesse makes the colour palette an all-weather, all surroundings and most importantly compatible choice. Other than being an enchanting colour, we'll go over all of the reasons why grey floor tiles are so popular right now Grey Floor tiles make for a timeless colour choice.
Also read, 3 tips for choosing natural stones for paving
Luxury and Finesse
Grey is a colour that reminds people of wealth and grace. Grey is the colour of choice for most high-end products due to its ageless beauty and superb appearance. Grey looks great in a home that has been constructed with luxury in mind, and it never fails to turn heads with its subtlety and refinement.
Low Maintenance
Grey is one of the colours that require a minimal amount of upkeep. While most colours expose dirt and other indications of regular wear and tear fast, grey hides them all. It's the ideal choice for a modern family's home.
Peaceful and Calming
Every area in the house can benefit from the addition of grey floor tiles. When the colour is added to a room, even the most neutral settings begin to look luxurious. The tone creates a sense of calm in the environment. It's one of the most relaxing colours, making it easy to blend into any setting. In whatever setting, the grey tiles never bother the eye or appear overwhelming.
Perfect for a Minimalistic Home
Grey floor tiles go with a wide range of interior design styles. Grey tiles are available in a variety of tones, including light, pastel greys and darker, moodier hues. By using grey as your base colour, you can create a stylish home design of your choice. Grey is the ideal colour for a residence that is designed with minimalism in mind. Grey has a natural minimalism character to it, making it ideal for a minimalist lifestyle.
Compatibility
Grey flooring creates a classy style that no one can ignore. The colour is one of the most compatible colours because of its subdued and light shades. It never looks jarring and gives the other things in it surrounding the time to shine while maintaining its own look throughout.
Grey floor tiles from The Stone Flooring are stunning. We've put together a quick guide on grey tiles and their materials, which could be the best option for your stone flooring.
Grey Limestone Tiles
For generations, this iconic stone has been used as flooring. Its capacity to withstand the test of time demonstrates how tough and long-lasting a stone floor can be. Grey Limestone is less prone to fading and requires less maintenance than the stone used outside.
Marble Tiles
Grey marble is a beautiful and functional stone flooring alternative. This stone is ideal for a timeless kitchen floor full of grandeur and can help achieve a classic yet contemporary vibe.
Sandstone Paving
Sandstone is a long-lasting natural stone for paving when compared to other building materials. Grey sandstone paving is known for its natural beauty and tonal variety, and its own colour palette, subtle veining details that have formed organically over thousands of years.
Conclusion
It might be difficult to choose the correct natural stone for your project because there are so many options for finishes and natural texture. This is why we provide samples to our customers, allowing them to view and experience the stone before purchase, ensuring that they are making the best decision possible!