How To Choose Bathroom Tiles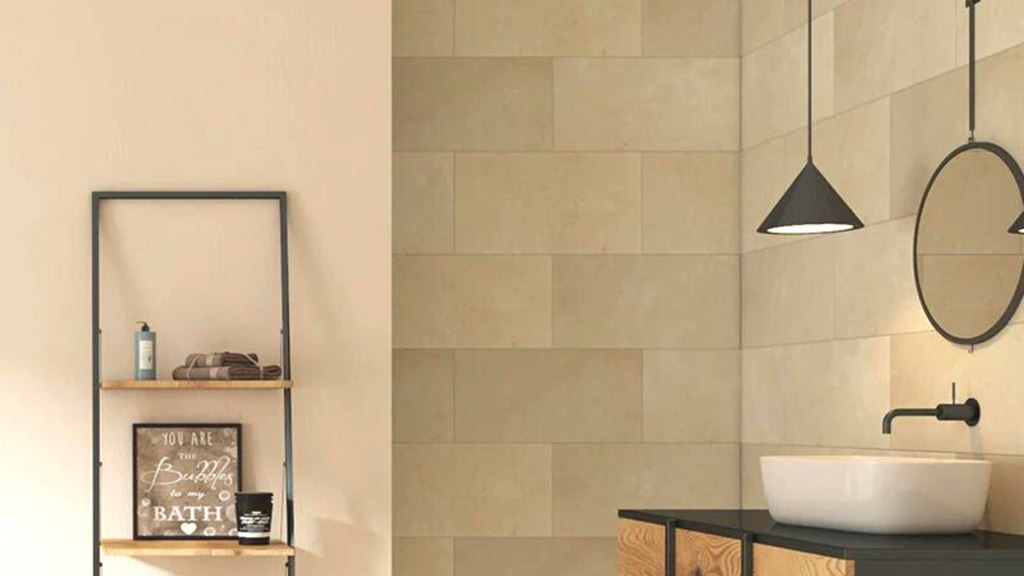 A Brief Overview
Natural stone tiles are an excellent way to add an element of grace and luxury to any bathroom design interior. With endless varieties on the market, there are a lot of things you need to consider when choosing natural stone tiles for bathroom floor. This is why in this blog, we, at The Stone Flooring, have brought to you this bitesize guide for choosing the ideal natural stone bathroom tiles. From finishes and material choices to the installation space and maintenance required, we will cover the most fundamental things you need to consider when it comes to choosing your natural stone tiles.
Choosing The Right Stone
Natural stone bathroom walls and floor tiles have the ability to alter the tone of the room entirely. This is why it is crucial that you pick your tiles keeping this your priority. For classy, elegant spaces that scream opulence, the veins of color running through natural stone tiles make them a widely popular choice for magnificent bathroom designs. As an alternative, if you wish to add a hint of luxury to a minimalist bathroom, natural stone tiles are a bold way to add character and definition with their subtle and striking patterns.
Your bathroom is a space where you go to relax and unwind, so if you wish to add a little more warmth and comfort to your space, you can go for travertine which ultimately features orange hues that will not overpower the aesthetics of your bathroom. This stone comprises natural pits that give it a stylish individuality to add a hint of prestige to the room with its faint surface effects to make it a state-of-the-art installation. On the other hand, if you wish to achieve a paler finish, you can go for limestone which is softer than other natural stones.
Also read, 4 Handy Hints before you buy Bathroom tiles
The Finish Matters A Lot
Every material comes with its fair share of properties and characteristics, so it is important to bear this in mind when you choose natural stone tiles for your bathroom. Natural stone is often extremely sturdy and long-lasting, thereby making it a safe option for tiling if you have young children or pets. However, the finish can entirely alter the aesthetics. Polishing brings out the best of the color and depth of the veining, so naturally, our first association with stone tiles is a glossy finish. This look is typical of granite, travertine, and marble tiles when it comes to achieving a luxurious, sleek aesthetic that is sure to add a wow factor to your bathroom. However, due to its slippery finish, it is crucial to consider that it may pose a higher risk for slip and fall accidents.
Another widely popular option in bathroom designs is chipped which gives a rustic, aged look while the surface of the tiles remains smooth. It is an excellent alternative to polished tiles if you have children in the space but do not want to compromise on luxurious aesthetics. If your bathroom design aims at bringing the outdoors in, then tumbled stone tiles offer the true elegance of a smooth finish while still maintaining a sandblasted-like appearance.
Essential Steps To Make When Choosing Bathroom Tiles
 1. Choose A Style
Before you even start your search for bathroom tiles, you must first decide on a style. Bathroom tiles come in plenty of colors, styles, and design options and you can create the look that you wish. The bathroom style that you want to go with will determine the type of tiles you need to buy. Think about the overall style and aesthetics of your home and how your bathroom style will complement it.
 2. Think About Your Tile Size Preferences
When looking for natural stone bathroom tiles, you must think about what size tiles you want. Bathroom tiles come in a wide variety of sizes ranging from small format tiles to large format tiles. So, if you avoid this step beforehand, you may get intimidated by the choices available to you.
 3. Never Choose More Than Three Different Tiles
Once you have decided on the style and size, it is time to narrow down your choices. If you are planning to mix and match tiles to create a unique look in your bathroom, you must be careful. Although mixing and matching tiles is an excellent option, it can also result in making your bathroom appear busy. You should never choose more than three different tiles if you wish to mix and match.
 4. Take Your Shower Space Into Consideration
If you have a separate shower space in the bathroom, you may want to consider using different tiles for it. Now you need to make sure that you are buying anti-skid tiles as showers can get slippery. In addition, it makes sense to use the same tile for your shower walls and floors to create a seamless look. Make sure that no matter what tile you choose, it should complement the rest of your bathroom.
 5. Maintenance
The most common mistake people make when choosing bathroom tiles is that they do not take maintenance into consideration. This usually turns out to be a drastic mistake as some bathroom tiles are available at a cheaper price, but they are high maintenance. So, we suggest you choose the tiles that require little to no maintenance even if they are a little more expensive.
End Note
It is always great to have a color scheme in mind before you go off to buy tiles so that you can select them faster. You can always contrast the floor and wall tiles and consider a textured, colored, or patterned accent tile in order to achieve the desired look. Go for a matching countertop in materials like marble, granite, or quartz to complete the look. At The Stone Flooring, we offer a massive selection of natural stone tiles for bathrooms so that you are able to achieve the desired look and design that also complements your home interior. So, get in touch with us today and redecorate your bathroom in the most elegant way with natural stone tiles.
Also read, How To Choose The Right Paving Slabs?