How To Choose The Right Paving Slabs?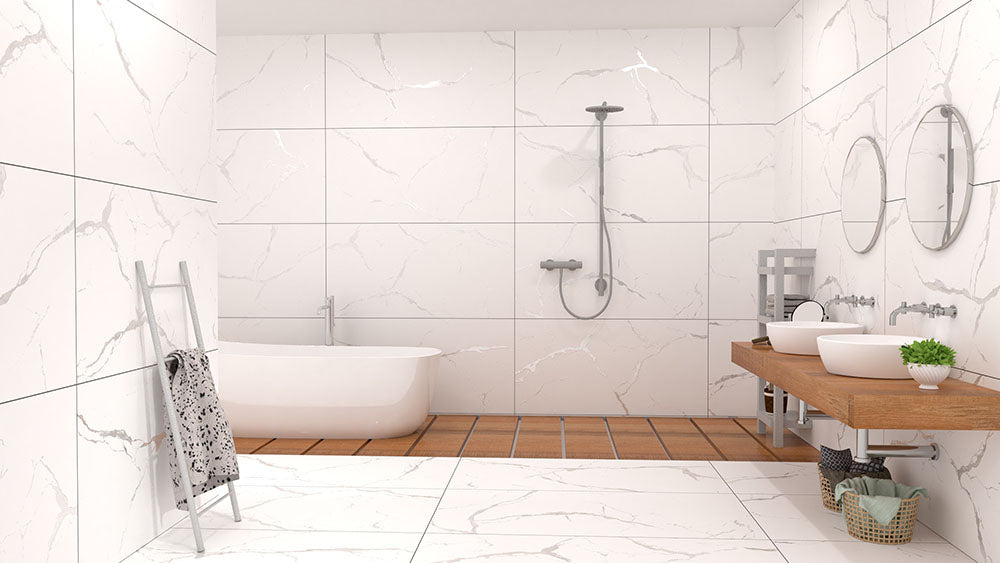 Paving slabs are not just decorative. They also serve an important purpose. The choice of the right paving material for your home is one that you should take seriously. The perfect pavement can improve your property's aesthetic appeal. By selecting the appropriate paving material and design for your space, you may create the desired mood and atmosphere.
If you're thinking about paving your driveway or need paving slabs online, you've probably got a few questions. To help you right away we have gathered the most popular paving materials with their highlights to make your decision a lot easier.
So now, it's a fantastic time to repair your patios and revitalize your driveway area with a variety of perfect paving options.There are many factors to consider when choosing the right paving slabs for your home. The first is to select the appropriate paving material. There are many different types of paving materials available in the market, each with its own unique benefits and drawbacks.
For example, concrete is a very popular paving material but it is also very porous and can be susceptible to staining. Brick is another popular choice, but it is not as durable as concrete and can be difficult to clean.
How to choose patio paving slabs?
If you are interested in creating a new patio, then you should consider the type of paving slabs that you will use. The right paving slabs will complement your new design and make it look great.
When selecting a patio paving slab, you should also consider the following factors:
Material - Choose a material that will last for years to come. A good choice would be concrete or brick pavers. These materials can be expensive but they will last a long time and they look great in any setting.
Texture - If you have an open concept floor plan, choose pavers that have textured surfaces such as pebbles or crushed stone. This will give your space a warm feel and look great against any type of flooring design.
Color - Colors are also important when selecting paving slabs because they can make or break your home's appearance. Pavers come in many different colors so if you want something really unique then consider using frosted glass bricks or colored dustless mica pavers instead of plain white ones.
Size - It's important that the size of the pavers match up with the size of your room so make sure when you're comparing prices that you keep this in mind when making your decision!
What are the best paving slabs to use?
If you are going to build a new patio, you need to know what type of paving that is going to go down. The patio paving slabs that you choose should be appropriate for the environment and the size of your patio.
The most popular types of paving slabs are:
Best paving slabs for stepsare Natural Stone Paving, Indian Sandstone Paving Slabs, Limestone Paving Slabs, Slate Paving Slabs, Granite Paving Slabs, and Porcelain Paving Slabs.
Best paving slabs for gardenare Concrete paving slabs, Natural stone paving, Porcelain paving, and Block paving.
Best paving slabs for driveways are External Porcelain Pavers, Natural Limestone Paving, Natural Sandstone Paving, Slate Paving, Stone Circles, and Flamed Natural Stone Paving Slabs.
Here at the stone flooring, we carry a vast selection of garden paving options, so whether you're thinking about introducing a fresh paving to your garden or looking to completely redo your outdoor space, we have solutions that are ideal for you.
Surreal Limestone Paving Slab
Limestone is an excellent choice for making a big statement in your house or yard. The stones have a sleek and tidy appearance, with natural veining and constant slab colouration, making them ideal for any modern home. The fine-textured limestone is uniformly tinted and has a characteristic, soft appearance. It only comes in a few different hues.
It is, however, rather simple to mould and cut into various shapes and sizes. Limestone Paving Slabs is available in a number of colours, ranging from jet black to natural yellow, allowing you to tailor your design to the aesthetic of your home. The stone is sturdy, long-lasting, and resistant to regular wear and tear, as well as adverse weather conditions.
Lustrous Quartzite Stone Paving Slab
Natural Quartzite stones paving slabs can be found in a variety of applications that require a timeless, contemporary look. They're ideal for patios, causal pathways, and outdoor fireplaces. They are available in a wide range of attractive colours, from black and grey to earthy tones and white.
These colours are renowned to provide a sense of peace, making them ideal for minimalist interior design. Owing to a glossy appearance, the stone forms a unique look that can only be observed with this material.
Resounding Sandstone Patio
Sandstone is generally the first choice for homeowners outdoors because of its strength, elasticity, and rustic appeal. It composes of quartz grains and natural cement components. Sandstone Paving Slabs has a completely natural look and feels with fine lines and patterns.
The stones come in a variety of colors, shapes, and sizes, so it looks great in any garden. You can easily extend the trendy, sleek grey pavement around your home or garden, or emphasize the patio with dramatic black sandstone for a modern and stylish design.
Robust Granite Patio
Granite Stone Pving brings beauty and sophistication to any outside space. One of the most important advantages of granite paving slabs, and one thing that creates granite patios prominent, is that it's implausibly durable, incorporates a long span and may face up to the constant movement, changes, and dynamic weather conditions. Any landscape scheme looks stylish and elegant in the variety of colors that this natural stone offers.
Wrap Up!
It's not easy to negotiate the world of pavement, but you're not alone. From the proper balance of materials, layout, and design features, to installation recommendations, we know everything there is to know about paving. If you're looking for a quick way to improve your lifestyle, Get in touch with us.
Check out our website now and delve into the beauty of paving slabs!