Amp Up Your Outdoor Space with Porcelain Slabs!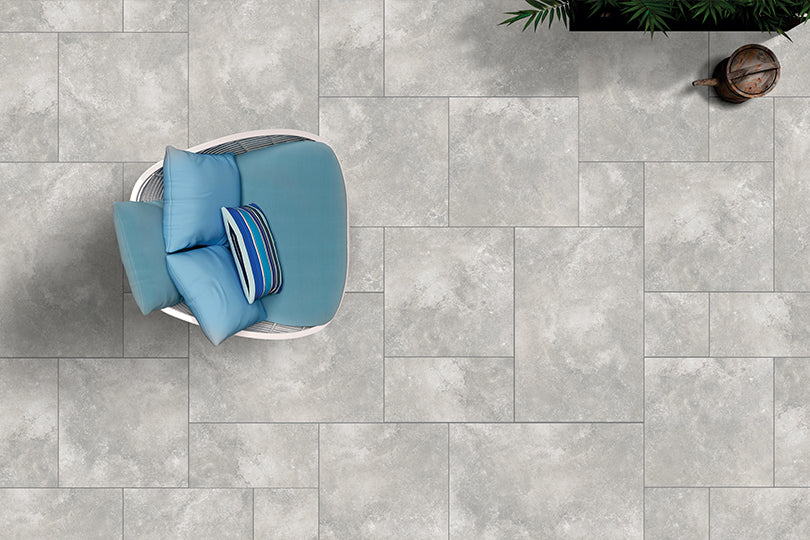 Can porcelain be used outside?
Porcelain tiles are a great way to add a decorative and eye-catching look to your home.
They have become extremely popular in recent years and are not just used inside the bathroom. They can also be used outside as they are durable and don't fade or crack when exposed to the elements.
 Porcelain tiles have been used for centuries for indoor use only. However, with modern technology and advancements in manufacturing techniques, outdoor applications have become possible.
 These qualities make them a popular choice for patios, decks and pool areas. Porcelain tiles are also becoming increasingly popular in residential applications because of their low maintenance and long-lasting quality.
If you're looking to add a touch of luxury to your outdoor living space, look no further than porcelain paving slabs. Porcelain is a material that is not only durable but also very elegant. This means that it will complement your decor perfectly. It is also one of the most popular choices for flooring since time without beginning. Used as a countertop or even as an accent wall in your home, it truly works wonders.
In addition to its durability, porcelain has a very rich history. It was first used in China and other parts of Asia thousands of years ago. Today, there are many different types of porcelain available on the market, including white, black, gray, and more! You can find these tiles in almost any color - deep blue paving slabs to grey paving slabs and even beige paving slabs! Whether you are looking for a quick and easy way to spruce up your yard or you want a unique look that is different from what you see around town, porcelain tile has many options.
The Advantages Of Adding Porcelain Paving Slabs To Your Outdoors-
Porcelain paving tiles are a great way to add extra character to your home or business space. They are appropriate for driveways and patios as well as other indoor and outdoor spaces. And that is why we, at The Stone Flooring, have brought you a variety of porcelain slabs to choose from! But in order to choose the best paving slab, you must also be assured of the benefits that it has!
Porcelain paving slabs are low maintenance, and extremely durable, and it will last for many years with proper care and maintenance. For example, gray porcelain slabs are relatively low maintenance and yet give that chic look to your surroundings!
Porcelain paving slabs have the ability to absorb dampness in your outdoor area. They also provide an attractive look that will make your home look beautiful and elegant. And what better than a vitrified porcelain floor to do the needful?
Porcelain paving tiles are an excellent choice for patios, terraces, and walkways because they do not crack or fade when exposed to the elements like other types of flooring would.
They also create a warm, inviting ambiance in your home or business office space where you want people to relax and enjoy themselves outdoors without having to worry about damaging their furniture or plants!
Porcelain outdoor paving slabs are a great way to add a high-end look to any project without breaking the bank! You can purchase them at a worthwhile cost from The Stone Flooring, so there's no reason why you shouldn't be able to liven up your place, whether you're looking for luxury or a simple upgrade.
Porcelain paving is a great choice for any home, whether you're looking to add a modern, elegant look or simply upgrade your existing tile flooring. These tiles are durable and easy to clean, making them ideal for kitchens, bathrooms, and more.
Also read: 5 popular paving stone options
Are outdoor porcelain tiles slippery?
Porcelain tiles are a great option for outdoor use. If you want to add colour and texture to your pool deck, patio or driveway, there are many different options available for you to explore.
Porcelain tiles have a high slip resistance because of their hardness, which makes them more resistant to breakage when it does happen. The high slip resistance also means that porcelain tiles are not slippery when wet or dirty.
What is rectified v/s non-rectified outdoor porcelain paving?
Rectified porcelain has been subjected to heat and pressure during manufacture, which causes the porcelain to shrink and expand. This small expansion and contraction allow for a more consistent surface with less risk of cracking and breaking.
Non-rectified porcelain is lower-quality outdoor porcelain. Whereas rectified porcelain paving porcelain tiles for any project as non-rectified material requires larger installation joints which in turn can cause pieces to move over time.
Porcelain tiles outdoors- pros and cons:
Pros are
1. Porcelain tiles for your patio are quite durable and can last for years.
2. You can use them in any area of your home or even outdoors if you want to.
3. They're easy to maintain and clean, so you won't have to worry about them getting damaged over time.
4. They're also waterproof, so they can withstand rain and moisture without getting stained or ruined by water damage.
5. They come in a wide variety of designs and colors, so you can find the one that suits your preferences best!
Problems with porcelain paving
On the other hand, porcelain tiles require regular maintenance to ensure that they remain in good condition. If you want your patio to look beautiful for years to come, then you will need to make sure that you clean the surface regularly and do some routine maintenance on it.
Is outdoor porcelain paving worth the extra money/cost?
It depends on what you're looking for.
If you want a very durable surface that resists cracking and chipping, then yes, it's worth the extra cost. However, if you want something that looks nice and can be easily maintained by the homeowner, then porcelain is not your best option.
Outdoor porcelain paving is a great investment.
It can be used in a variety of situations, including driveways and pathways.
It is also a very durable material and will last for many years to come.
However, it does require some maintenance to keep it looking good.
Is porcelain stain-resistant?
No, porcelain is not stain-resistant.
They look great when clean and maintained, but they need to be cleaned regularly to prevent dirt build-up.
The first thing that you should do is clean your outdoor porcelain paving with a hose or power washer every couple of months.
Porcelain is characterized by its translucence, durability, whiteness, and smooth surface.
They can also be expensive upfront. That said, if you're looking for a good-looking, long-lasting, low-maintenance surface that will last decades and won't need replacing every year then it's definitely worth the extra cost.
Whether you want a traditional or contemporary look, we are certain to have the ideal tile for you. Discover more about The Stone Flooring's porcelain paving tiles today!