Natural Limestone Maintenance And Care Guide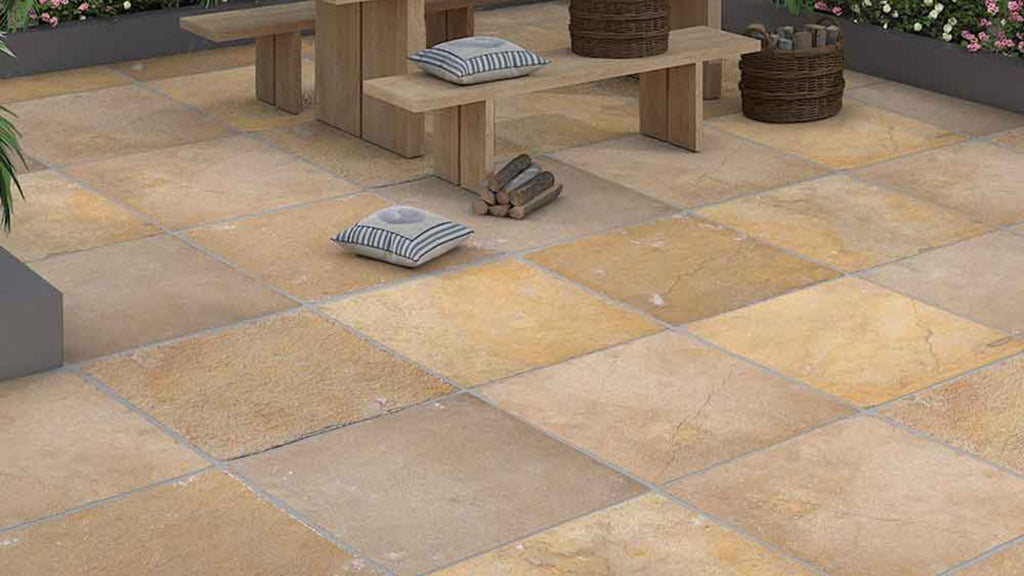 Let's Begin!
There is nothing more exquisite than the perpetuation of natural stone. Introducing natural stone to your home is certainly a factor that will play a crucial role in increasing your property's value. Just like it has withstood millions of years of exposure to the elements in nature, natural stone is there to last for generations when used in architectural applications. 
Right care and maintenance are a crucial part of preserving its reliability and keeping it in the best shape possible. This article has been brought to you by The Stone Flooring which will give you all the ins and outs of caring for and maintaining your natural limestone. 
Also Read,  How to Clean And Maintain Your Limestone Paving?
What Do We Mean By Limestone?
Natural limestone is one of the most exquisite stone products available for architectural purposes. When compared with other types of stones, natural limestone has a relatively uniform texture, and when it is used outdoors, weathers well, and attains a gorgeous patina with time. 
Based on where the stone has come from, it tends to differ in color, usually with multiple colors from a single quarry. Hues of beige, white, cream, and grey are common backgrounds. Other colors may include blues, light pinks, greens, reds, and purples. Limestone usually comprises fossil and shell impressions making every piece as exclusive as the sediment left behind. The density and quality of the stone can also vary from one quarry to another. 
Basic Cleaning Guidelines To Keep Your Limestone Paving Slabs At Their Best
As holds true for all natural stones, basic maintenance of your natural limestone will be required to keep it as good as new. Every surface finish differs in its susceptibility to staining and soiling, a polished surface will resist the accumulation of grime and dirt naturally whereas a honed finish will call for maintenance more often. 
Usually, the kind of cleaning products will remain the same whether the surface is exposed to outdoor elements or used inside your home, but the frequency of cleaning will vastly differ. 
Interior Limestone Surfaces
Your interior limestone tiles should get the same care and consideration that you would give to a fine wood floor or wall. The methods of cleaning are similar, but a little different depending on the type of finish. 
Basic maintenance requires only periodic washing with neutral cleaners and water. Soapless cleansers are preferred as they tend to minimize streaking and the build-up of film. 
Start by wetting the surface with water, then apply the cleaner. Wipe the surface with a soft cloth and small overlapping sweeps, and rinse after washing. After this, dry the surface with a soft cloth. 
In order to remove soap scum in shower and tub surrounds, we recommend you use a non-acidic soap scum remover. You can also use a solution of ammonia and water, nevertheless, too much use of such products can dull the surface. To prevent the buildup of soap scum, use a squeegee or wipe down after every use, and when cleaning vertical stone surfaces, make sure you work from the bottom to the top. 
Similar to a polished finish, basic maintenance of honed surfaces also requires washing with neutral cleaners and clean water as needed. Using a mildly abrasive cleaner or other thick liquid scouring cleaner is perfect. All you have to do is mix in clean water and use an overlapping gentle scrubbing motion with a bristle brush. Make sure you never use products that contain bleach as they can discolor the surface. 
Simply wet the area, then apply the cleaner over the wet surface and clean using a scrubbing motion. Once done, rinse properly with clean, hot water, and dry the surface with a clean cloth or mop.
Also read,  Elevate Your Outdoor Space with Limestone Paving Slabs
Exterior Surfaces
Natural limestone used in your outdoor spaces or limestone paving slabs, are exposed to environmental elements such as moisture, extreme temperature, airborne contaminants, etc. 
Easily accessible limestone patio slabs, and use of this stone in other areas including, walkways, steps, walls, fountains, etc., must be kept free of debris, dirt, and leaves. Start by sweeping off the surface, then wash the area with a low-pressure washer periodically in order to prevent staining, and get rid of mold and accumulated grime. When it comes to using cleaning agents, follow the same product guidelines as discussed for interior use. 
General Cleaning And Maintenance
Stain Removal

You can always use a stone-specific poultice to remove stains and grout haze from your Indian limestone paving slabs. A poultice is basically a fine, absorptive, non-acidic clay cleaning powder that gets rid of stains and light cementitious grout haze from polished as well as unpolished natural limestone. 

Restoration

If your natural limestone has worn out or been damaged, we suggest you get in touch with with The Stone Flooring Team to fix the problem. The Stone Flooring is the best choice for your restoration requirements.

Sealing

We highly recommend sealing all stones, particularly newly installed granite, marble, and limestone in order to provide maximum protection against stains. Make sure you select a high-quality sealer to protect your limestone paving slabs. Newly installed natural limestone countertops are usually sealed at the time of installation by a fabricator. Sealing every few years will ensure that your store is at its best. 
Bottom Line
Natural limestone comprises unique qualities that not only distinguish it from man-made materials but also make for an excellent consideration when it comes to selecting the right paving materials for a specific project. Now that you know all the dos and don'ts of keeping your limestone paving slabs as good as new, get in touch with us and choose your paving materials today!