Marble Floor Tiles: A Classy and Sophisticated Option for Floors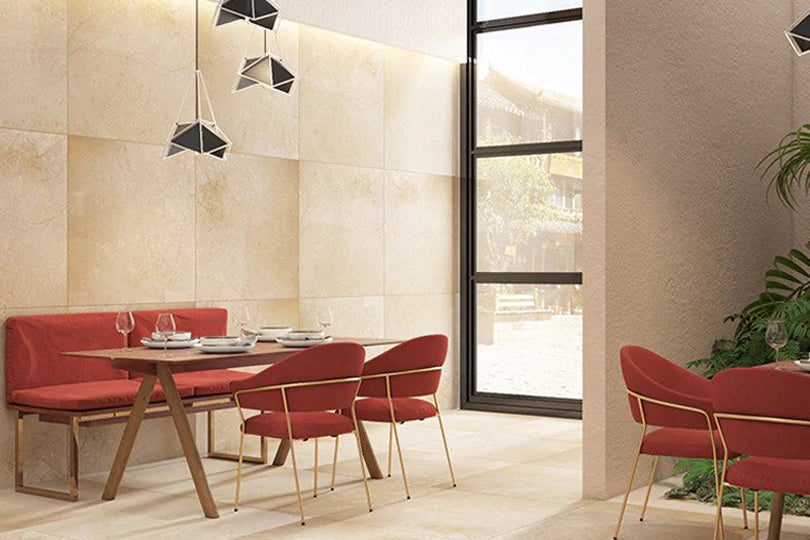 We understand that first impressions matter, whether you want to create a classic and timeless corridor or a striking and contemporary entrance hall. Our clients want their homes to feel warm and inviting to visitors and marble is one of the most beautiful natural stone flooring materials available, to achieve this. Based on this understanding, our marble tile collection includes some of the most practical and long-lasting tiles available – ideal for this application!
A Handful of Our Favorite Marble Floor Tiles are Listed Here:
Sahara Beige Marble Floor Tiles
For your foyer or entryway, this beautiful marble flooring style is simply stunning! These marble floor tiles are incredibly adaptable and offer the perfect backdrop for any home décor, with a sandy tint dotted with thin brown veins. The colour scheme complements the room's surrounding furniture and knickknacks. Everyone's attention is drawn to it because of its rich and detailed appearance. They're great for everyday usage, especially if you want a simple, discreet space where you can relax. It also sets the tone for a luxurious residence. This marble flooring pattern would also look great in a large living room or a large bedroom. In a word, this style works best in seamless rooms and areas that are somewhat pricey!
Palermo Grey Marble Floor Tiles
Grey marble adds texture and character to your decor while remaining almost unnoticeable. Infuse the wall and floor tiles in deep pools of dark grey with subtle white veins that swirl over the surface for a strong, modern approach to your interior design. It's the ideal approach to punch your floor without being too overbearing. Palermo Grey Marble floor tiles goes well with wooden furniture and gives it a sense of unity. If you want to go beyond white and black marble, this is the design to go for.
Almeria White Marble Tiles
No other marble comes close to the beauty of The Almeria White Marble Tiles with a little upkeep. The white marble tiles reflects light, making your home appear lighter and more open. Choose this one for a luxurious home! It's important to prioritise functionality when choosing tiles for your bathroom. The Marble Tiles are economical, beautiful, and versatile. The tile's base is a gentle white that's enhanced with minor marks that add a pop of colour. It's great for folks who prefer a clean, uncomplicated look in their home.
Tuscany Beige Marble Floor Tiles
The simplicity of things is what makes them beautiful. The light cream base and random seams of varied colors of white and beige marble tiles give these tiles a delicate refinement. These marble floor tiles have a stunning brilliance that will grab your attention. Marble is also one of the most durable natural stones, suitable for both indoor walls and floors. Because the tile's base tone is so neutral, it can be used almost anyplace, from your closet to your bathroom. Without a doubt, this is the ideal marble flooring design to turn your home into a conversation topic for decades to come.

By now, you must have fallen in love with marble flooring all over again. Marble is an extremely flexible flooring choice for both your home and office. Our design ideas can assist you in choosing the sort of marble that best suits your preferences. The Stone Flooring's stones have a long history of excellence in the sourcing and finishing of a wide range of stones. We know what your home requires, and we use our creativity and industry knowledge to provide tiles that are unmatched in quality and elegance. Are you looking for design inspiration take a look at our fascinating marble floor tile collection.
Also read, Tips for selecting natural stone wall tiles