How to Design the Perfect Outdoor Patio: Ideas, Beauty, and Tile Selection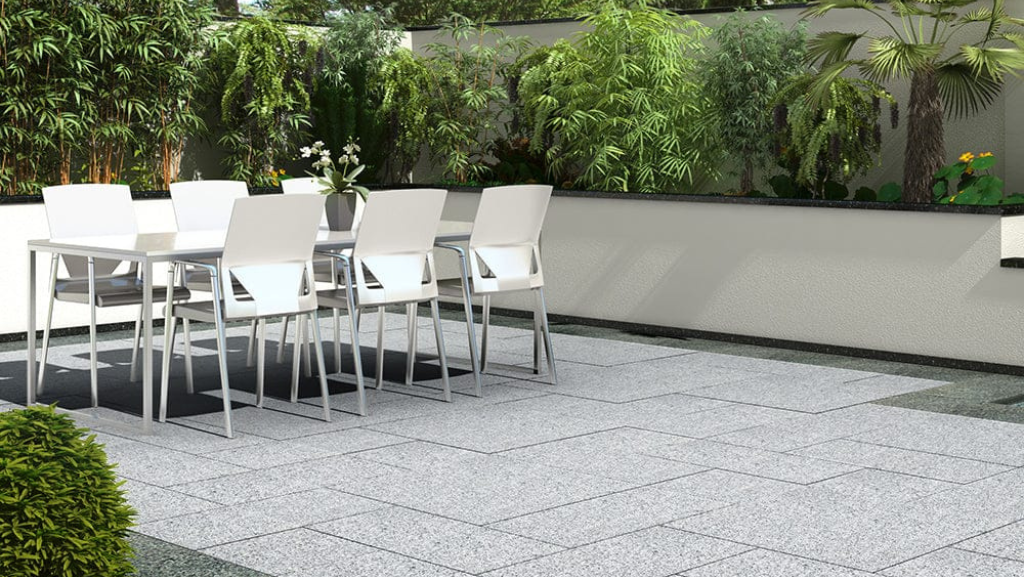 The power to immediately put us at ease and relax our worn-out mind lies in the hands of Mother Nature. No matter how well-designed the interiors of your living space is, the scenic outdoors have the ability to heal, rejuvenate, and make you feel calm instantly. Keeping the significance of being surrounded in the warmth of nature, The Stone Flooring is bringing to you some incredible ideas to create beautiful patios. 
By creating a perfect outdoor space, you will always have a quiet place where you can just be yourself. Whether you wish to relax, entertain your guests, or connect with nature, outdoor patios are the oasis of serenity. Read this blog in both the cases- either you wish to revamp your existing patio or want to start constructing a patio from scratch through the right tile selection, elevating the aesthetics and functionality of outdoors. Let's take a deep dive into the ideas for patios, beauty upgrade techniques, and tile selection process. Let's get started!


Outdoor Patios: Significance & Benefits
Considered as an integral part of your home, a patio is not only an extension of your property as it is a place where you accumulate the most cherished moments of your life. Here, you enjoy being surrounded with fresh air, chirping birds, greenery, light of the sun or the moon.  Whether you want to sit under the sun or gaze at the stars during night, these outdoor patios just allow you to enhance your quality of life. Apart from a 'Me-Time', these patios are effectively used to organise social gatherings, Al fresco dining, and even casual meetings with clients. 
By this time, you must have started dreaming about your well-designed patio. Well, let us help you begin your journey by sharing some exciting design ideas for patios and guide you to make the best use of this extended part of your home. 
Captivating Ideas for Creating Beautiful Patios
Though we are mentioning here some creative ideas to make your outdoor patios more functional and beautiful, it is essential to consider your needs, preferences, and the primary purpose of your patio. Thus, keep your purpose in mind while implementing any design idea.
Al Fresco Dining: Meals when shared with close ones always taste better, and why not, it creates a sense of togetherness and strengthens emotional bonds. You can use your patio for outdoor dining by creating a proper seating arrangement for an elevated dining experience under the stars. You can even use a pergola or umbrella as a shade to prevent sunlight. 
Intimate Lounge to Have Fun: Imagine a fire pit, a seating arrangement with ottomans, plush couches, and statement chairs around it will create a comfortable seating area for your friends and guests. Isn't it a great idea to enjoy fun evenings and unwind?  
Garden Oasis: Who doesn't like to be surrounded with a garden with exotic planters? It's time to beautify your patio with stunning planters, greenery, and flower beds. 
Poolside Entertainment: Residential or commercial properties with  pools often prefer designing a patio as a poolside lounge. You can also implement this idea by installing sunbeds and a cabana. 
Outdoor Bar & Kitchen: What's your idea of a fun evening? We surmise you like to enjoy drinks with loved ones and host gatherings and barbeques. Well, you can have it all if you design your patio as an entertainment hub with an outdoor kitchen and a bar. You can even add a music station to your patio, and get ready to let your hair down. 
A Peaceful Garden to Unwind: Give yourself a therapeutic experience of serenity by creating a tranquil space with minimalist furniture units, a water feature, and soulful landscaping.  
Kids' Play Area: Outdoor patios are not only designed for adults to have fun and conversations, but can be a great place for kids' activities and games. 
Outdoor Home Office: You can turn your patio into a productive outdoor office surrounded by greenery and fresh air. Simply arrange a desk, an ergonomically designed chair, and we are certain this peaceful environment will double your productivity.
Tips to Accentuate the Beauty of Outdoor Patios 
What makes a patio look stunning? Well, it lies in a variety of factors, such as the design patterns, type of tiles you choose, quality of materials, and how well everything goes with the existing surrounding and exteriors of the property. As you always have room for improvements, you can refine the look of your patio using these tips:
Use The Elements of Nature: By using natural stones, wood, planters, you can add the essence of nature to your patio. This way, you can blend it seamlessly with the environment and make a harmonious connection to surroundings. 
Select a Colour Scheme Wisely: The expert decorators and architects advise to use patio floor tiles or slabs in earthy tones and natural hues. Having said that, there is no harm in choosing vibrant colours but the soft tones will create a soothing environment, making this space appear like a peaceful retreat. Granite floor tiles are preferred for their durability and wide range of colour options. 
Proper Lighting: For social gatherings during late evenings, you would need outdoor lighting for setting the right mood. You can check out some amazing accent light options that will help you create an inviting atmosphere during night. 
Add Water Features: Beautiful patios are incomplete without the presence of water features like a small pond or water fountain. The soothing sound of the flowing water from a fountain is enough to put your mind at ease and create a serene environment. 
Invest in Comfortable Furniture and Accessories: For a comfortable outdoor seating experience, make sure you invest in top-quality furniture pieces. To add more charm and visual interest, you can use stylish cushions, throw pillows, or even outdoor rugs. 
How to Select the Right Floor Tiles for Patios?
With a myriad of options available online, it becomes difficult to choose the right floor tiles or slabs for outdoor patios. Let us make it easy-peasy for you. Here are a few factors that you must keep in mind while making an informed purchase decision:
Durability: The first thing to keep into consideration is durability of the tiles so that they can withstand climate change and heavy foot traffic. We suggest you use granite paving slabs as they are renowned for their durability and luxurious appearance.
Low Upkeep & Maintenance: As granite floor tiles are easy to clean and require less maintenance, it saves a lot of money that often goes into repair, sealing, and professional cleaning. 
Colour & Texture Options: If you choose to use granite paving slabs to create beautiful patios, then you are making the best decision. This material offers a wide range of colors and textures to style your patio just the way you want. You can pick the colour which compliments your exteriors and resonates with your decor preferences. 
Heat Resistance: As granite features heat resistance properties, it remains cool even in direct sunlight. You can comfortably walk on it during hot summer days.
Anti-Slip Surface: Offering a safe, non-slip surface, a granite floor reduces the chances of slip accidents especially at the times of rainfall. 
Designing an ideal outdoor patio is easier said than done. However, with careful planning and choice of right materials, you can create a patio which is no less than an outdoor oasis that adds value and charm to your home. To buy the best-quality natural stones for your patio, trust The Stone Flooring. Browse through our collection, compare the prices, read the reviews and we are certain you'd partner with us.