Transforming Your Living Spaces: Sandstone Cladding for Interior Design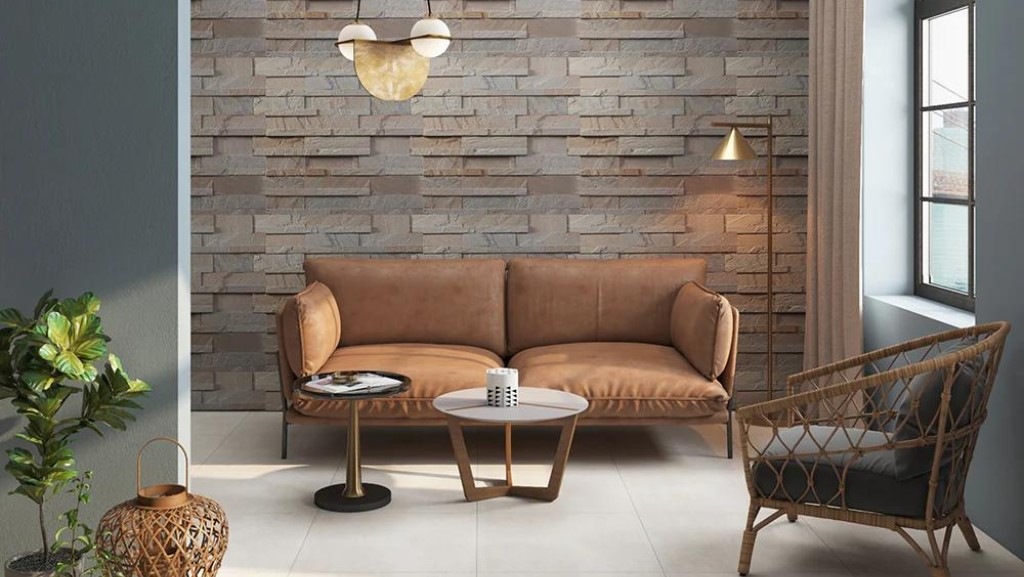 Imagine coming back to a home with mesmerising interiors, blended with artistic flair and character. Even for a temporary period of time, its beauty will ease out work stress and relax a worn-out mind. To create such interiors, the choice of materials and designing techniques play a major role. Amidst a plethora of interior decor solutions, sandstone cladding stands out as a timeless option to consider. 
It truly plays a vital role in shaping the aesthetics of your living space, ensuring that everyone who enters your space is spellbound with the captivating ambience. 
Using these sandstone cladding tiles, you can add natural beauty, versatility, and durability to the walls of your dwelling which represent your personality in a unique way. So, if you wish to inject the much-needed elegance and a flavour of timelessness indoors, then use sandstone wall tiles today.
Sandstone Cladding Tiles: Growing Popularity in the World of Interior decoration
In this fast-evolving decor industry, the implementation of innovative design solutions and meticulous use of materials change like seasons. Despite these changes, the popularity of sandstone in interiors shows no signs of slowing down. 

Besides using stone wall tiles for living room, homeowners can create stone flooring of kitchens, bedrooms, and bathrooms as well for a charismatic look.

If you are wondering what makes sandstone cladding the most appreciated design solution for drab and plain walls of your space, then here are some reasons behind its growing popularity:
Natural Beauty & Timeless Grace of the Sandstone Wall Tiles
When you use sandstone wall tiles indoors, you surround yourself with nature's eternal beauty and grace. From the earthy tones to the texture featuring intricate grain patterns, this stone has the power to immediately enliven the ambience. 

The choice of the colour leaves an impact on the overall look and feel of the space. Thus, make sure you select a hue that complements the existing decor setting. Mostly, people play safe with soft creams and beiges if their interiors exude the vibe of minimalism. On the other hand, homeowners choose reds and browns for interiors with a classic and traditional visual appeal. From classic to contemporary, the beauty of sandstone cladding tiles lies in their ability to mingle with any style of decor, ensuring that their natural elegance leaves a lasting impression on everyone who visits you.
Longevity and Resilience to Serve You for Years
Besides their ethereal charm, the sandstone wall tiles are the most sought-after materials for revamping interiors as they are highly durable. As this material can withstand the vicissitudes of climate, most homeowners prefer using them indoors as well as outdoors. From maintaining their beauty to structural integrity for decades, it is truly a building material one can totally vouch for.
Versatility & Adaptability with Various Decor Styles
If you are worrying about infusing a sandstone cladding into a particular interior decor style, then drop your inhibitions and allow it to show the magic of versatility. 
Being a highly versatile material, it looks fabulous in any style of decor- from traditional to rustic to modern and eclectic. The interior designers creatively use this natural stone and also limestone wall tiles to elevate the existing design schemes of a space and take their aesthetics to new heights. Whether you wish to give your abode a vintage vibe or desire to refresh it with contemporary designs, it is surely the most classic & adaptable material to swear by.
A Wide Range of Sandstone Wall Cladding Colour
The colour palettes in sandstone wall tiles deserve all the attention as they reflect the unique compositions of sand-sized particles formed over the years. These striking colour schemes are the result of this stone's geological history. Encompassing a wide spectrum of earthy tones, it allows homeowners to choose the shade of their choice. From beige to cream to tan and light grey, these lighter tones make the interiors look warm and inviting, reminding you of the natural landscapes. On the other hand, you will also discover deeper richer shades of red, brown, and orange, reminiscent of sun-kissed beaches and mountains. 
Choosing the right colour isn't enough. Pay attention to the texture variations in the sandstone cladding tiles as they will add depth and character to the appearance. In addition, the play of light and shadow on the textured surface contributes to creating a cosy and harmonious ambience. The sandstone-clad walls in living spaces look unique and stylish, ensuring that it instigates a conversation and remains the focal point of the room. 
Using stone wall tiles for living room is not a recent fad or a trend which will fade with the passage of time. This design technique has survived several decades and will continue to rule the realm of interior decoration. 
How to Incorporate Sandstone Cladding in Your Home to Transform Interiors?
There are several striking ways to use sandstone wall tiles into your living space. Let's take a read:
Living Room Treasure
A stone-clad accent wall right behind the sofa set gives a perfect backdrop to your living room furniture arrangement. The presence of warm hues will make the atmosphere relaxing and welcoming for your guests, ideal for get togethers and house parties.
Kitchen Marvels 
Enhance the aesthetics of your culinary haven using sandstone cladding. As it is resistant to heat and moisture, you can be assured of durability and longevity.
Bathroom Delights 
Whether it is the stone flooring or wall cladding, sandstone is a perfect material to turn your bathroom into a luxury retreat. Creating a spa-like ambience, the calming hues of this stone rejuvenate your senses while making you feel relaxed. Elevate your bathroom's luxury quotient using this stone.
Bedroom Wonders
Use sandstone cladding tiles in your bedroom and transform it into a delightful, cosy retreat. The soft colour tones will create an ambience that promotes restful sleep and warmth.
Sandstone Wall Tiles Indoor: Maintenance & Care Tips
This blog will remain incomplete unless we mention the useful tips and techniques to maintain the sandstone cladding for many years to come. As it is a long-term investment, make sure you keep its charm intact over the years using the following tips:
To avoid the accumulation of dust on the wall, you can go for occasional cleaning with a damp cloth. Simply rub the surface of the wall to keep it looking its best for years. Repeat the process whenever you think it is needed.

Avoid using a harsh cleaning agent or solution to wipe the wall off as it may damage the stone's surface with the passage of time. Thus, make sure you use a mild detergent without any abrasive ingredient. You can even do dry dusting twice a week to maintain the inherent lustre and gloss of the stone. 

Though sandstone is resistant to staining, we suggest you opt for periodically sealing to maintain its appearance and durability. Occasional sealing protects the stone from moisture penetration, especially, if you are using sandstone wall tiles in the bathroom or kitchens.
The ageless beauty and classic appeal of sandstone cladding ensures that the walls of your living space never look boring and drab.  From its splendid appearance to design versatility, durability, and low-maintenance, all these attributes make this material an excellent choice for interior design projects. Choose The Stone Flooring- UK's one of the leading brands that supply premium-quality nature stones for a variety of construction projects. Get in touch with us now to avail excellent discount offers!