Sandstone Wall Tiles for Home Decor Ideas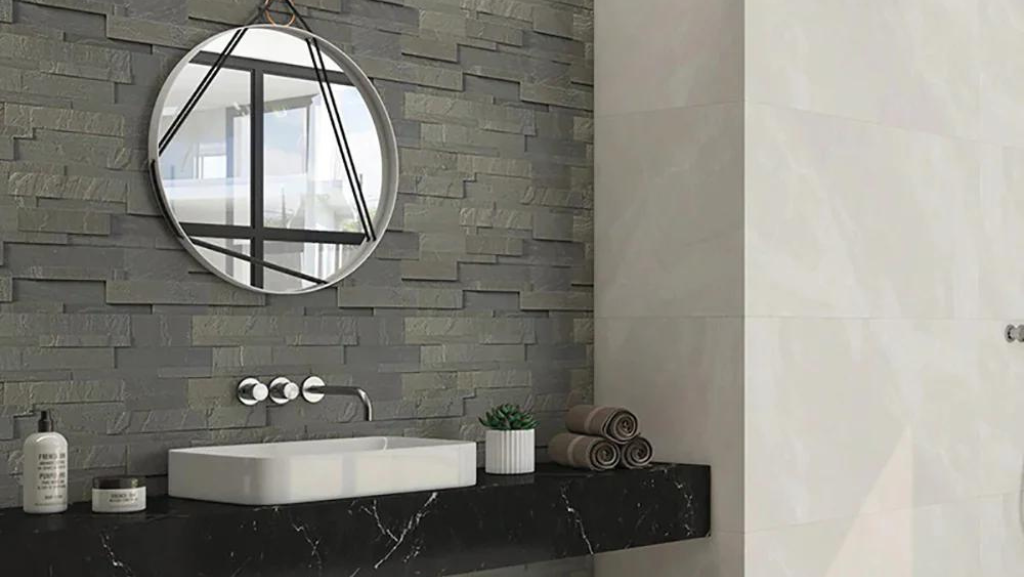 Your home decor says a lot about you. From your personality to unique choices and lifestyle, one can ascertain who you are just by looking at the interiors of your abode. 
Everyone knows that walls play a pivotal role in transforming a drab, boring space into a visually appealing one, exuding a bucketful of aesthetics. Thus, when revamping your dwelling, begin with some intriguing wall decor ideas to significantly impact the ambience. 
Amidst all the home decor ideas & seasonal trends, we've found a fabulous way to enhance the beauty of your home, and i.e., using decorative tiles for walls. Let's discover how to make it happen! In this blog, we will explore how sandstone wall tiles and other options like limestone and porcelain tiles can up the decor game of your space. Let's get started!
The Eternal Grace of Sandstone Wall Tiles
Be it modern or traditional, the sandstone wall tiles can seamlessly blend with any interior decor style. With its timeless charm, it can elevate the aesthetics of your living space. If the colour of your choice is natural and soothing, then vouch for these wall decor stone tiles which come in earthy tones with nature-inspired textures, ensuring a warm and inviting atmosphere.
Here are a few useful home decor ideas using decorative tiles:
Creating a Feature Wall with Sandstone:

Imagine coming back home after a tiring day at work, and your eyes meet a stunning feature wall created with sandstone tiles. S beauty has immense power, it will instantly boost your mood and alleviate stress. But first, you need to choose a wall where you wish to use these tiles. From the living room to bedroom, just pick a prominent wall and adorn it with these tiles to make it a focal point of your room. With a uniform or mix and match pattern, you can create a captivating appearance indoors.

Mix and Match with Porcelain Wall Tiles:

Get more creative and use porcelain wall tiles in combination with sandstone tiles. With an amalgamation of a variety of colours, patterns, and finishes, you can create an accent wall that showcases the beauty and versatility of both the materials. By using intricate designs and borders, you can highlight the wall behind the sofa set in the living room and grab many eyeballs.

Bring a Rustic Elegance Using Limestone Wall Tiles:

Even though you have implemented an excellent stone flooring idea, the overall look of a room seems incomplete without impressive wall decor stone tiles. If you want your ambience to look a little natural and organic, then opt for

limestone wall tiles

as they feature muted tones and subtle veining. Use these tiles in combination with sandstone to create a cosy, convivial environment.
How Sandstone Wall Tiles Work for Every Room of Your Abode?
Every room of your dwelling deserves a decor upgrade. Let's discover how decorative tiles for walls work wonders for every area of your abode- from the living room to outdoor spaces.
Living Room: The moment your guests enter your home, the first room they're exposed to is the living room. Hence, it needs to be spruced up in the best possible way. Create a feature wall or fireplace with sandstone wall tiles and make this area of your house exude a gentle warmth and inviting vibes. Make sure you choose neutral, natural tones for a soothing & subtle visual appeal.
Bedroom: It's your bedroom which makes you feel better after a gruelling work schedule. To enhance the peaceful vibes of this area, use wall decor stone tiles in colours that complement the existing interior setting. You can even create eye-catching wall accents using sandstone tiles. Use them to frame a mirror or as a border around a window. This small touch can make a huge difference in the way your bedroom looks.
Kitchen: That's where you concoct delicious meals; no wonder why the kitchen is called the heart of home. Add a touch of sophistication to your kitchen by using sandstone or limestone wall tiles as a backsplash. Ensuring ultimate strength and durability, these materials are homeowners' one of the preferred choices even for stone flooring.
Bathroom: Either it is your bedroom or bathroom where you love to spend some extra time with yourself. Give your bathroom a spa-like touch using sandstone tiles. Their presence will add oodles of luxury and sophistication, ensuring that you indulge your senses in a tranquil oasis. The earthy tones and textures will create a relaxing atmosphere, perfect for unwinding after a long, tiring day.
Outdoor Spaces: When we talk about home decor, the story extends to the exteriors of your residential property as well. No matter how exquisite your interiors may look, without a beautiful outdoor area, the overall decor seems incomplete. Besides using decorative tiles for walls of your garden, use the best stone flooring to complement the surrounding. The natural look of sandstone complements outdoor settings beautifully. Try it, and you won't have any regrets!
It's wise to create a harmonious design scheme with the selection of the right stone flooring and wall tiles. The uniformity in materials will tie your home decor like never before.
Sandstone Wall Tiles: Selecting the Right Colours & Textures
Like we've mentioned earlier that sandstone wall tiles boast a huge collection of colours and finishes, their versatility makes it easy to personalise home decor according to one's wish. Given below are some popular colours gaining traction these days:
Natural, Earthy Tones: Come close to nature and you will always feel rejuvenated. Such is the power of nature. Even in living space, people like the idea of using earthy colour schemes for a warm and inviting atmosphere. You can choose hues like beige, tan, and brown which perfectly complement the existing interior design.
Textured Finish: The textures and patterns inherited in the sandstone tiles make it an ideal choice to add depth and character to the drab walls. For those with rustic design choices and nature-inspired decor preferences, the textured tiles are nothing but the best.
Polished Finish: Giving a chic and contemporary look, polished sandstone wall tiles are great for modern interiors. The smooth surface of the tiles adds a touch of elegance to the room, ensuring that its ambience leaves a fragrance of class and sophistication.
Mixed Colors: For an eye-catching appearance, use the mixed shades of colours which will create a space that is unavoidable. It will instantly grab all the attention, making the interiors extra captivating for guests.
How to Maintain the Beauty of Wall Decor Stone Tiles?
To last the grace and charm of these decorative tiles, it's important for you to keep in mind these basic care and maintenance tips which are as follows:
Do regular dusting with a slightly damp, cotton cloth to get rid of the accumulated dust and dirt.

Avoid using any harmful cleaning solutions with abrasive chemicals as they will cause damage to the surface of the stone tiles. 

To protect the walls from moisture penetration, use high-quality sealers. Thus, regular sealing is an important maintenance step to consider.
To refine the home decor, a sure-shot way is to buy sandstone, limestone and porcelain wall tiles from an authentic supplier of natural stones. The Stone Flooring is a recognised brand in the UK that is committed to delivering premium quality natural stones for creating interiors and exteriors that you often see in the glossy pages of home decor magazines. It's time to place an order with us and transform your home into a haven of beauty and elegance.