Exploring a World of Natural Stone Paving Slab Hues and Shades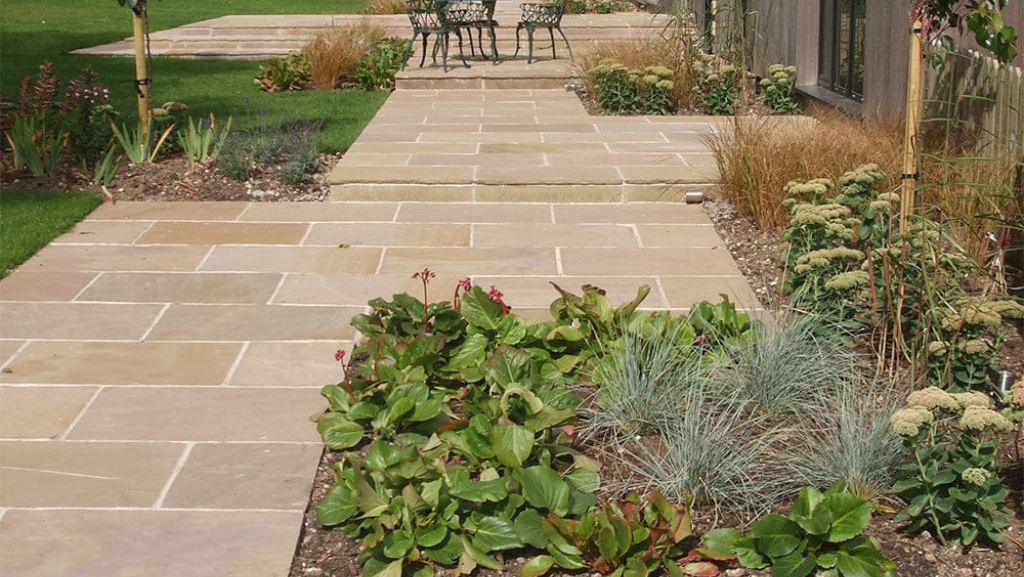 With immense power to influence the functionality, aesthetics and mood of any outdoor space, colors play a significant role in paving ideas and design. As shades are the most noticeable aspect of designing, it is important to choose the right colour in natural stone paving slab. 
Whether it is a walkway, driveway or a patio, the stone flooring looks visually appealing with the right choice of colours. If vibrant shades create a striking and captivating look in the outdoors, the subtle and earthy tones add warmth to the overall area. As every colour has a unique impact on the beauty of exteriors, in this post we will explore a huge variety of shades or hues that come in natural stone patio slabs.
Nature-Inspired Earthy Tones for a Soulful Touch
Featuring natural elegance and ensuring grace, the earthy colours evoke a sense of tranquillity and build a connection with Mother nature. From warm sandy beige to deep terracotta and rusty browns, these hues have an intrinsic attribute to reflect the eternal charm of nature in the most blissful way. The best part about using such shades is their ability to go well with the surrounding and outdoor environment. Their organic nature lets these hues blend in harmoniously with the atmosphere, creating an outdoor that is ready to create unforgettable moments for you. Let's take a plunge into how these varieties of earthy shades can make a huge difference in the appearance of outdoor paving.
Different colours evoke different moods and emotions. If you use beige and neutral tones, they will remind you of the sun-kissed beaches and long walks on sand. These colors are an ideal choice for walkways, patios, and outdoor seating areas where you would love to spend some quality time with your loved ones and friends. By selecting the right shade in natural stone paving, you shape the ambience of your outdoor space to match with your desired mood.
Terracotta and Rustic Reds
If the idea is to add a touch of Mediterranean charm to your outdoor setting, then vouch for rustic reds and terracotta. Using these warm tones, you can add depth and character to your space. These hues give a striking contrast with greenery around, making the outdoors visually appealing than ever.
Inspired from the hues of soil and tree bark, the elegance of such shades brings a sense of sophistication and organic design elements to the outdoor space.
Blues and Grays: The Shades of Calm and Relaxation
We have already explored the tones of natural stone patio slabs associated with the organic beauty of ground, earth, and soil. Now it's time to experience the tranquillity of the sky and the peacefulness of the ocean in the shades of blue. Offering a cool and relaxing vibe, blue is certainly a colour you can totally swear by when designing outdoors.
Besides blues, one can opt for greys for that extra touch of sophistication and urban taste. From light grey to a dark charcoal greyish tone, you can find different variations in the same colour to complement your distinctive  choice and design preferences. When you use a grey shade natural stone paving slab, you invite a striking contrast in the presence of greenery and plants around the exteriors of your space. Also, these shades are versatile in nature and can be blended harmoniously with the design styles and themes. Exuding a sense of refinement and timeless demeanour, the presence of such shades create an intimate feeling in larger spaces.
Using Multicoloured Blends to Exhibit Creativity
The amalgamation of colors can create an eye-catching look in the outdoors. The monochromatic slabs have their own charm, but we really cannot underestimate the creativity formed using a mix of colours. You can create a mosaic-like effect on the outdoor stone flooring. No one can avoid looking at a dynamic appearance of these captivating colours that unfailingly add visual interest to your outdoor space. Let's explore these powerful blends with the strength to transform outdoor spaces like never before:
Associated with the fall season, these colours evoke the nostalgic feeling of crisp air, falling leaves, and the harvest bounty. You can combine the rustic reds, yellow, orange, olive green, deep purple to create an ever-appealing outdoor seating area. The burst of colours should be wisely implemented and installed by a professional. If you need any support in choosing colours, get in touch with experts with a knack for natural stone paving colour schemes and palettes.
From sand to copper to dusty rose and sage green, the warm glow of such shades represent the rugged beauty of nature. These blends of soft hues capture the warmth of the landscape and bring character to your design.
Find paving slabs online which reflects the artistic fusion of multiple striking colours. Their presence brings a unique sense of force and bust of energy to the outdoors, making the area look visually interesting. These lively and playful colors can transform any boring space into a creative area with endless design opportunities. Red, yellow, orange, green, and purple can be used to infuse playfulness into the area while the soft pastel shades like soft blush pink, mint green, light blue, and lavender can create a gentle and dreamy ambience for outdoors.
Now that you have gained a thorough understanding of colors available in natural stone patio slabs, here are a few factors to keep in mind while making a selection for your outdoor area.
Choose a colour that Harmonises with the Architectural style of your abode. If your space exudes modernity and contemporary design features, then earthy tones will be a safe option to go for. 

If you wish to highlight the architectural features and define pathways, then use lighter shades. Also, soft tones can be used to create an illusion of bigger and expansive spaces while the darker shades can make a space look cosy and intimate. 

Make sure that you choose

stone flooring 

colours keeping the factor of balance in your head. Too much of contrast or excess monotony, both can break the design aesthetics. Thus, balance is the key. Choose colours wisely that harmonises with the other elements of the landscape like plants, outdoor furniture, and architectural details. 

Think about the mood you wish to create in an outdoor space. If the idea is to do something creative for the kids' play area, then you can use playful and vibrant colours complementing their personality. On the contrary, the muted and lighter tones will create a peaceful space where you can enjoy the blissful mornings and relaxing evenings with your family & friends.
Final Thoughts
As you set yourself on the journey of outdoor designing, carefully choose the colour palette for patio slabs online. As these natural stone paving stones, slabs, and tiles enhance the beauty of outdoors and provide durability to the surface, they have their own importance in the world of construction. 
Choose paving slabs online from The Stone Flooring- UK's one of the leading brands that offer ethically sourced natural stones to indoor and outdoor design enthusiasts. Dive into the pool of our exclusive collection and explore a world of colors and shades inspired by the beauty of nature.