Bathroom Tile Ideas for a Modern and Sleek Look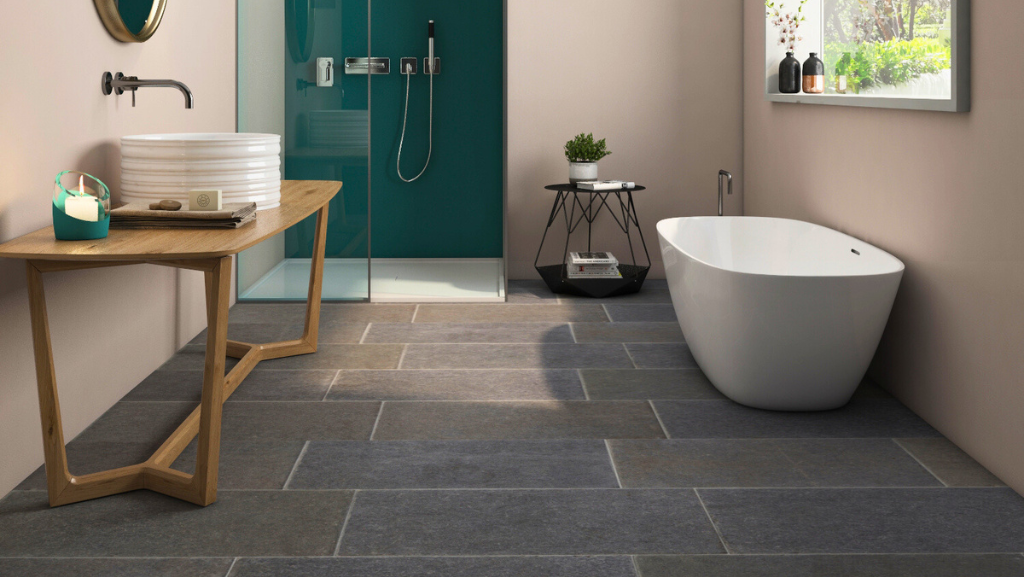 Take a quick shower and experience an instant relief from everyday stress and anxiety. It truly works wonders! To make your shower moments even more relaxing, it is essential to elevate the aesthetics of your bathroom through some incredible natural stone bathroom tiles.  
We put in a lot of effort to upgrade the appearance of the living room, bedroom, or kitchen, but bathrooms are often overlooked in terms of designing and beauty. Not anymore! With modern bathroom tile ideas you can infuse a touch of modernity and vibes of contemporary style into this area of your home. 
In this blog, we will explore some amazing natural stone flooring options for bathrooms to make them appear more modern and sleek. Let's get started!
Let Luxury Take Over with Marble Tiles
The elegance of marble bathroom tiles is truly magical. It adds a touch of sophistication to this area of the home. When you opt for large-format tiles (60 x 120 or 600 x 1200) in neutral shades like white and soft grey, it simply brings a soothing vibe to the ambience of your bathroom. Several homeowners wonder- is stone tile good for the bathroom? Well, the answer is yes as modern sealers reduce the stones' susceptibility to water damage and staining. Thus, they are a good choice for bathroom floors, countertops, and walls as well. The smooth, polished marble pairs well with minimalist bathroom fixtures and delivers a contemporary visual appeal. 
Create Harmony Using Natural Stone Tiles
Should I use natural stone in the bathroom? Well, why not? If they are properly installed and maintained, they are guaranteed to look great in the bathroom. To create a visually appealing bathroom, you can even combine a variety of natural stone tiles, such as limestone, slate, travertine. Use larger tiles for a seamless look on the floor, and for walls try mosaic tiles for an accent feature. With neutral and subtle colour variations, these natural stone bathroom tiles create a harmonious balance, making the ambience appear more organic as well as modern. 


Invite Tranquillity with Pebble Mosaic Tiles
The small, rounded stones covering the shower floor will create a unique shower area in your bathroom, giving the feel of a spa at a resort. The pebble tiles have the power to make the atmosphere more peaceful and calm for you. In addition, using mosaic tiles in different colours and patterns to form an artistic design and create a focal point in your bathroom. This unique touch of creativity will add personality to the area, making it look fascinating. 

Add Geometric Patterns for Modern Twist
Do you want to try something different? Choose from herringbone, hexagonal or chevron patterns to add modernity to the floors of your bathroom. You can also corporate these intriguing patterns on the walls for a modern, eye-catching look. Are you wondering which colour tile is best for the bathroom? Well, it's good to opt for neutral, earthy tones, such as soft greys, white, creme, beige which make the space looking spacious, airy, and elegant. 
Choose a single colour stone flooring scheme and to add some intrigue, pick at least two variations of that colour. For instance, take light and dark grey tiles to create depth into the bathroom and bring out a unique texture for enhanced beauty & charm. With stunning fixtures and well-placed lighting, you can make this area look extra stunning. For a clean and minimalist design approach, a monochromatic colour palette looks great. Always remember to experiment with different shade variations and textures for making the area extra appealing to the eyes. 
To create modern aesthetics, choose subway tiles in neutral tones to give your bathroom a sleek, contemporary look. Elongated subway tiles are an ideal choice for contemporary settings. Arrange them in a classic, traditional brick pattern or try incorporating some interesting installation patterns, such as vertical or horizontal tiles. In case you lack floor space in your bathroom, then we have got some amazing bathroom tile ideas for small bathrooms. First, you need to focus on buying large format tiles as the larger the tile, the fewer grout joints you'll have, which gives a greater sense of spaciousness.  Besides, use white colour floor tiles to create an illusion of more space in the bathroom. 
Add Natural Warmth with Wood-Effect Tiles
Imitating the appearance of a natural wood, you can find bathroom tiles which add a warm, organic touch to the ambience of your bathroom. Easy to maintain and moisture-resistance, these tiles can be used on the floor as well as walls for an artistic visual.
Embrace Opulence Using Onyx Accent Tiles
Using onyx tiles as accents is one of the best modern bathroom tile ideas as they bring oodles of richness and extravagance to the ambience. Use them in shower niches or vanity backsplashes for a luxurious feel. 
Introduce a Dash of Glamour Using Metallic Accents
When it comes to designing a bathroom in a stylish way, a touch of glamour can transform any area from ordinary to extraordinary. If you wish to inject into your bathroom a sense of opulence and glamour, then metallic accents are the perfect solution. These shining elements have the power to add depth, warmth, and a luxurious flair to your surroundings. Consider using tiles with metallic finishes, such as brushed brass or copper and pair them with sleek designed fixtures. You can even use these decorative accents in a featured wall. This can create a modern and luxurious atmosphere in the bathroom, making it appear grand and royal.

Textured Natural Stone Flooring Tiles
Give your bathroom the much-needed depth and character using stone flooring tiles with captivating textures, such as raised surfaces and 3D patterns. Offering durability, aesthetics, and versatility, the textured tiles stand out as a classic choice that enhances the ambiance of your bathroom. Their presence creates a focal point and adds depth to the shower area.


Make the Use of Contrasting Grout
Gone are the days when we didn't have colour options in grouting as the traditional white was the standard choice. Now, the scenario has changed with constant evolution in interior designing techniques. This time, use a contrasting grout colour to make your bathroom tiles look fascinating. Suppose you have white tiles, then give an interesting touch to the floors by using a dark grey or black grout. This will also highlight the pristine beauty of the existing tiles and create a modern look in the bathroom. 
Besides radiance and grace, there are other factors as well while choosing the right bathroom tiles for your space. Look for durability, ease of maintenance, and slip resistance to let this area serve you for years to come. 
Now that you are all set to make your bathroom as stylish and modern as your personality, visit The Stone Flooring- one of the leading natural stone suppliers in the UK for residential and commercial projects. Committed to offering premium-quality products at fair prices, we are widely trusted by our esteemed clients. Add your name to the list of our happy and satisfied clients today. Explore our vast range of collection and place an order now!