Creative Patio Design Ideas For Outdoor Living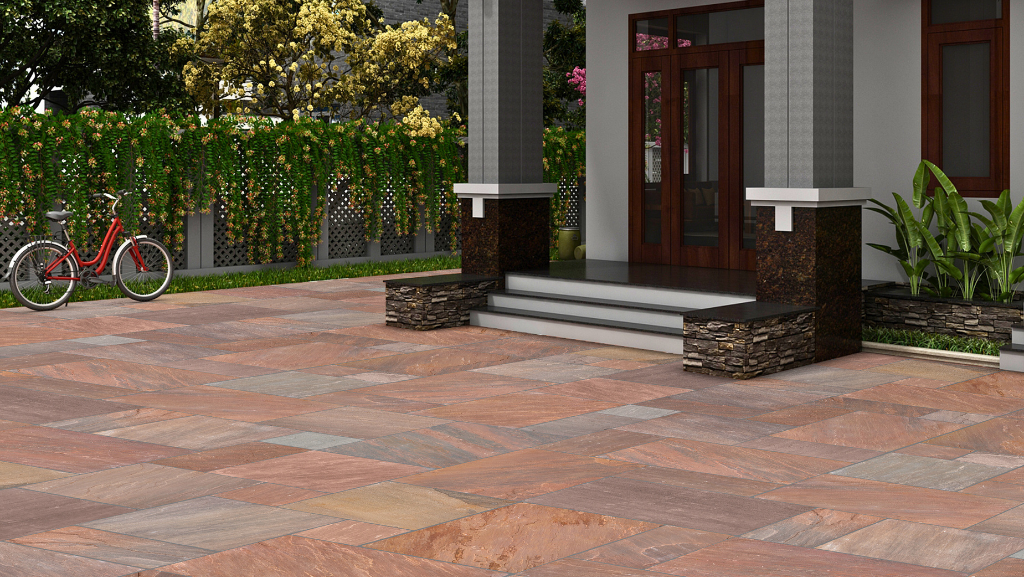 Let Your Creativity Run Wild
Do you picture a charming and useful patio that not only improves the look of your house but also makes a cozy space for hosting visitors outside? Well, if your answer is yes, then this is just the blog for you. Using one of the numerous creative patio design ideas that The Stone Flooring can help you find will invigorate your outdoor living area. Let's use our imaginations to improve your patio design!
Check out Your Options for Patio Design
Admire The Beauty Of Natural Stone
Using natural stone paving slabs is one of the best options for a patio design. Your outdoor environment has a sense of elegance and enduring beauty thanks to the distinctive patterns and hues of these excellent paving slabs. There are honestly a ton of options available. If you want to create a rustic and organic style, search for stones with irregular forms rather than stones with precise cuts if you want something more elegant and refined. Natural stone paving slabs are the perfect material for hard patio flooring since they are durable, need little upkeep, and add aesthetic flair.
Create Comfortable Outdoor Spaces
Why not create a room that is a part of your interior living space out of your patio? You can designate specific areas for dining, relaxing, and entertaining, each with its own function and atmosphere, by building a unique outdoor space. You can add outdoor patio furniture to these locations, such as pleasant seating arrangements and dining tables, to make them even more welcoming. In order to give each outdoor space warmth and individuality, be sure to incorporate decorative elements like patio rugs, lighting fixtures, and potted plants. It is simple to explore thanks to this creative space division, which also results in a well-planned patio design.
Water Features Can Bring About Peace
Consider incorporating water elements into your patio if you want to design something that is genuinely engaging. Imagine your outdoor area's centerpiece is a tranquil fountain or a waterfall that adds to its tranquility. The soothing sound of running water reduces stress and drowns out outside sounds. Unquestionably, a standalone water feature or one incorporated into your patio design can uplift your mood and add a calming visual element.
Improve Outdoor Entertaining With Areas For The Kitchen And Bar
You can improve your outdoor gathering by including a fully working outdoor kitchen and bar area in your patio design. You may make a useful cooking area by adding countertops, storage cupboards, and a built-in grill. Try adding a pizza oven, a mini fridge, or even a barbeque to make your space more useful. The cherry on top can be designated as a space for a bar with stools and a countertop for utensils. These basic improvements are all you need to plan the perfect outdoor gatherings with friends and family.
Add Greenery To Enhance Privacy
When it comes to outdoor living areas, privacy is essential. Incorporate lush foliage into your patio design to establish a natural partition and enhance seclusion. You can make a living wall that divides your patio from the surroundings out of tall plants, hedges, or trellises covered in climbing vines. Additionally, you can provide privacy while enhancing the lushness and color of your outside environment with vertical gardens and carefully placed potted plants. You can explore a massive range of different outdoor plants and choose the ones that go perfectly with your patio design idea.
Use Outdoor Lighting To Illuminate Your Space
If you put lighting in your outside space, you can use your patio long after it has grown dark. Nothing compares to the cozy, welcoming atmosphere that well-placed lights can produce. To create a pleasant ambiance, illuminate the walkways, seating spaces, and other patio design elements. You can combine lighting fixtures from above, such as chandeliers or pendant lights, with fixtures from below, such as walkway lighting or plant uplighting. You may use your space day and night with energy-saving LED lights as they are a sure-shot way to highlight the elegance of your patio design.
Feature A Fireplace To Create A Cozy Environment
Imagine all winter long, even on chilly nights, having a warm and welcoming ambiance on your patio. This can be done by utilizing fire characteristics. Install a fireplace or fire pit outside to create a gathering area for conversation and fun. Your patio will be more usable and have a cozier ambiance with a raging fire. Choose from a selection of styles and materials that match your patio's decor and successfully combine beauty and usefulness.
Add Your Own Touch With Outdoor Art And Decor
You can always add outdoor art and accessories to give your patio decor a unique spin. Try creating a focal point by hanging ornamental panels, wall art, or sculptures. You can also consider using vibrant, cheerful outdoor cushions, blankets, and rugs to enhance the style and comfort of your seating spaces. Add a pergola or a canopy for shade on a hot day. You can also choose elements that reflect your aesthetic and personality.
The Takeaway!
Imagine the thrill of designing a unique patio that is not only charming but also reflects your personal taste. You can transform your outdoor space into a beautiful and useful oasis by combining natural stone paving slabs and taking into account different patio design ideas. At The Stone Flooring, our team is committed to helping you create an outdoor space just the way you imagined. There are endless high-quality patio flooring options available in our vault, including stunning natural stone like sandstone paving tiles and outdoor porcelain pavers that are ideal for your patio. So, wait no more and take the elegance of your patio to a whole new level with The Stone Flooring.