Reasons Why Customers Love Our Samples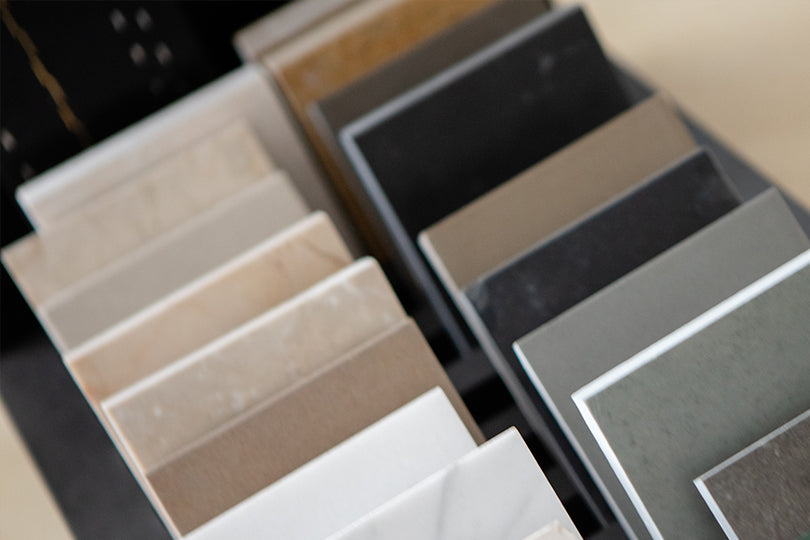 Promptness
We believe that if you're willing to try something out, you shouldn't have to put in countless hours filling out surveys in order to get a free tile samples. To make ordering samples simple and to ensure easy website navigation, we have a more – user-friendly interface that eases the entire process. It helps you to grab the paving slabs' samples without much hassle.
Free Full-Size Tile Samples
To help our customers, gain confidence in the stone they would eventually receive, we have on offer, our free sample service. It is a small but effective effort to support you in your choice for natural stones.
Customers may select up to 4 free samples & any additional samples can be procured at a minimum cost of 3.99 pounds per sample.
Professional Assistance
With years of experience, our team will always look after you and your queries from the beginning to end! It's important for us to not leave any stone unturned for our customers so, they can make the best choice.
Our customers can reach us in a way that is convenient for them by calling us, sending us an email, or chatting with us live. We also always keep them informed about their most recent order updates and shipping details so, they are always in the loop!
Approved Quality
All of our natural stones get sourced ethically, and from extraction to the final packaging of samples, the process is thoroughly investigated at every stage. To get in personal understanding of marble floor or porcelain paving slab, the finest quality of each stone must reach you. Also, we take pride to be known to go an extra mile assuring the highest customer satisfaction.
To ensure that the samples are flawless before being sent to clients, architects, and the business's approved installers, they undergo a rigorous quality check. Our stone experts follow carefully created strategies to guarantee that the stone batches contain the best possible ratio variability and that all samples produced will be appropriate to help you in getting your dream floor a reality.