Guide For Tiling A Compact-Sized Bathroom!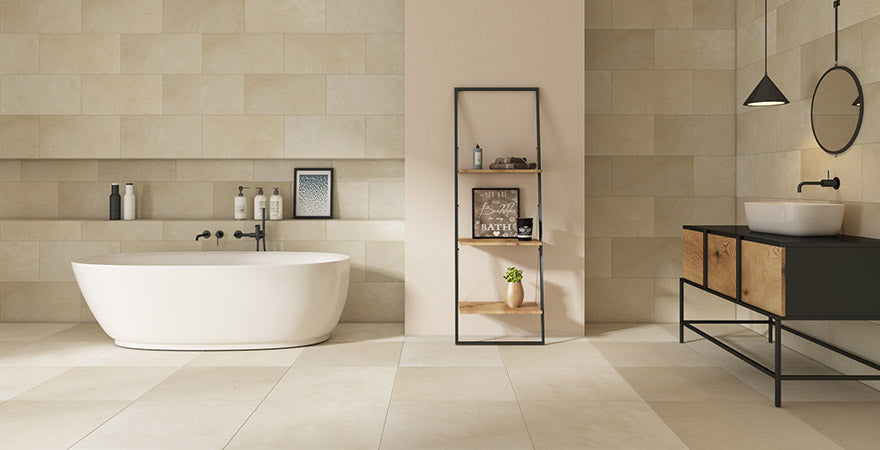 Thinking of renovating your small bathroom? When this time comes, you have to consider a few important things that can make or break the appearance of your bathroom. Would a complete black and white bathroom satisfy your soul? Or you should go for a pastel theme bathroom for that subtlety and relaxation. Or what kind of wall and
floor tiles
shall you use to help maximize the space? Renovating a compact-sized bathroom requires keen research of what shape and size of the bathroom tiles you should opt for or what design style will complement your personality.
The Monochrome Affair
The combination of black and white colour brings a dramatic statement to your bathroom which is edgy, modern, and glamourous in its own unique way. Tiling your bathroom with our glass finish Nero Marquina polished marble wall and floor tiles will add a sense of depth to the room. Adding all-white sanitary ware and bath would give that finishing touch to your space. These tiles come with beautiful tonal variations and veins which will enhance the elegance of your compact-sized bathroom.
Floor-to-Ceiling Stone Tiling
Choosing the same tiles for both floor and walls will help make your small bathroom space look bigger. Neutral tones such as beige, off-white, and grey colours work perfectly to brighten up your compact-sized bathroom. The ivory white colour of our Carrara polished marble tiles with grey and blue veins gives a luxurious appearance to your bathroom. Adding a full-length mirror with these tiles will work as a cherry on the cake to make your small bathroom feel not so small.
Say No to Small Bathroom Tiles
While renovating a small bathroom, one should always go for big
bathroom tiles
. Big bathroom tiles mean fewer joint lines which will create an impression of bigger expanse of the space. Our Tuscany beige honed marble floor and wall tiles will provide a traditional yet modern edge to your bathroom while making the room look brighter and bigger.
The Feature Wall
Adding a statement wall feature to your small bathroom can really set off all the elements together for a unique and eccentric appeal. Our brick-shaped Black metro tile honed wall tiles add a contemporary edge to your space. These tiles are designed with bevelled edges and a high-gloss finish for that statement of splendidness to the bathroom. Wooden flooring and a glass shower door would work perfectly as a finishing touch to your compact-sized bathroom.
The Rustic Charm
Heading towards a more rustic and vintage appearance to your small bathroom could help add a sense of character to its ambience whilst maintaining its functionality to your day-to-day needs. Our Westminster antique tumbled limestone floor and wall tiles are one of the best options to choose for that rustic atmosphere. Adding a natural light source to your compact-sized bathroom can instantly make it feel bigger.
Compact-sized bathrooms may ask for a little extra effort while renovating but the outcome will never disappoint you. There are so many more ways than mentioned above to transform your small and compact bathroom into a holistic experience that nurtures our soul and relaxes our mind. We are always here to provide you with the best quality bathroom tiles for renovating that one small bathroom.